Sold Home - 2543 N Sierra Drive
Posted by Brandi Hammon on Thursday, August 8th, 2013 at 3:02pm.
Mountain Luxury Real Estate is pleased to announce the sale of this fantastic home at 2543 N Sierra Drive in Eden, Utah.
We are so happy to have worked with the family who purchased this property, to have helped them find their dream home. This home truly is the home of their dreams, and with this purchase, they stole a hidden gem from the Ogden Valley real estate market.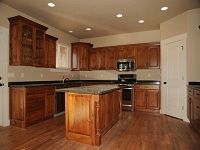 There are many aspects of this home that sold the family who bought it; one of those aspects is all the living space it offers. With 4,450 total square feet, this home has ample room for this family to live comfortably, entertain guests, and much more. The 1,960-square-foot main level features a three-car garage with plenty of space for storage, work areas, or boat/RV parking; a family room with vaulted ceilings, a gorgeous stone fireplace, and enormous windows that let in expansive views of the exquisite scenery that surrounds this home; a kitchen with hardwood floors and elegant cabinetry; and laundry space. The main floor also houses two full bathrooms, one half-bath, and three bedrooms, including the master suite.
The upper floor offers two more bedrooms and another full bathroom. In addition, the downstairs level also offers two more bedrooms and another full bathroom. That's a total of seven bedrooms and five bathrooms. Yes, you read that right—seven bedrooms and five bathrooms!
The family who bought this home was also sold by the property's location. Nestled in the heart of Eden, in a subdivision known as Eden Acres, this home is practically located smack-dab in the center of Ogden Valley; all the outdoor recreational activities for which this area is known are practically right outside this family's front door. For skiers and snowboarders, for example, Snowbasin Resort and Powder Mountain are both approximately 20 minutes away, while Wolf Mountain is within ten minutes.
These are just a few aspects of this home that sold the purchasing family. Again, we are thrilled to have worked with them and to have helped them obtain their dream home. And if you give us the chance, we can help you and your family obtain your dream home, too! Call us today!
Mountain Real Estate Companies
Mountain Luxury Real Estate is a division of Mountain Real Estate Companies that features some of real estate's most amazing properties. Mountain Real Estate Companies consists of two additional divisions, Mountain REO and Mountain Living. Please visit our website to learn more about us. For our most recent updates, follow us on Facebook or Twitter.
Leave a Comment