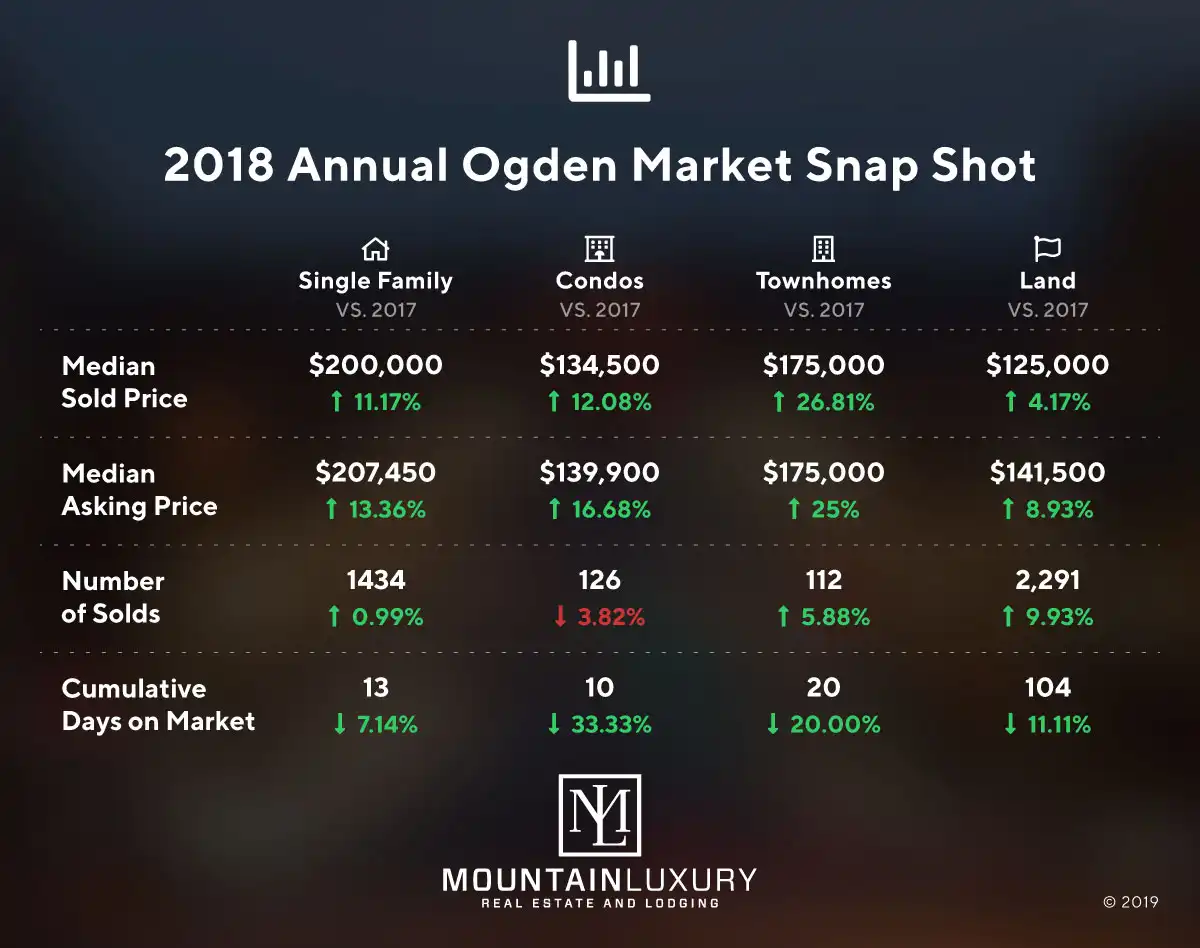 2018 Ogden City Market Report
---
May 3, 2022

How does your home stand in this market? Find out.
Single Family Homes
In 2018 the Ogden market for single family homes continued to rise reflecting a strong market with median sold prices up over 11% with the median sold price even at $200,000. The number of homes sold in 2018 remained fairly close to the number the previous year with 1,434 homes sold, a growth of only one percent. Having said that, the average time homes stay on the market dropped to 13 days, or 7.14% from the previous year. This has been a steady increase since 2014 wherein the rate of home prices has risen approximately 11% each year.
Townhomes
The townhome market showed the most growth of all types in terms of median sold price, posting a sharp 26.81%. The median sold price ended at $175,000 for the year. There was an increase in the number of sales, up 5.88% with 112 successful closings. Townhomes also saw less time on the market with an average of 8 days before going under contract.
 Condos
Ogden's condominium market also saw impressive growth with the average median sold price for the year at $134,500, an increase of 12.04%. However, there was a slight downturn in the number of closings in 2018 going from 131 in 2019 to 126 last year, a drop of 3.82%. Even still, these homes are also staying on the market for far less time then 2017, only 10 days on average, which is a 33% drop.
Residential Lots
Residential land also rose, but didn't break the double digits having gone up by only 4.17% from 2017. The median price for residential land was $125,000 and there were also more closings than 2017 with 2,291, an increase of 9.93%.
Wrap Up
The overall residential market in Ogden seems to be performing quite well and showing a steady growth rate each year of around 10%. Properties listed are very likely to sell and available inventory is holding steady as sellers are still seeing opportunities to capitalize on the strong market and rising prices.
Live in this remarkable outdoor recreation mecca by finding your Ogden Home for Sale. These incredible listings include North Ogden Homes for Sale, South Ogden Homes for Sale, and Ogden Valley Homes for Sale. Don't miss out on owning a home just over the mountain from Snowbasin or Powder Mountain Ski Resorts, experience the World's Greatest Snow less than 30 minutes away.