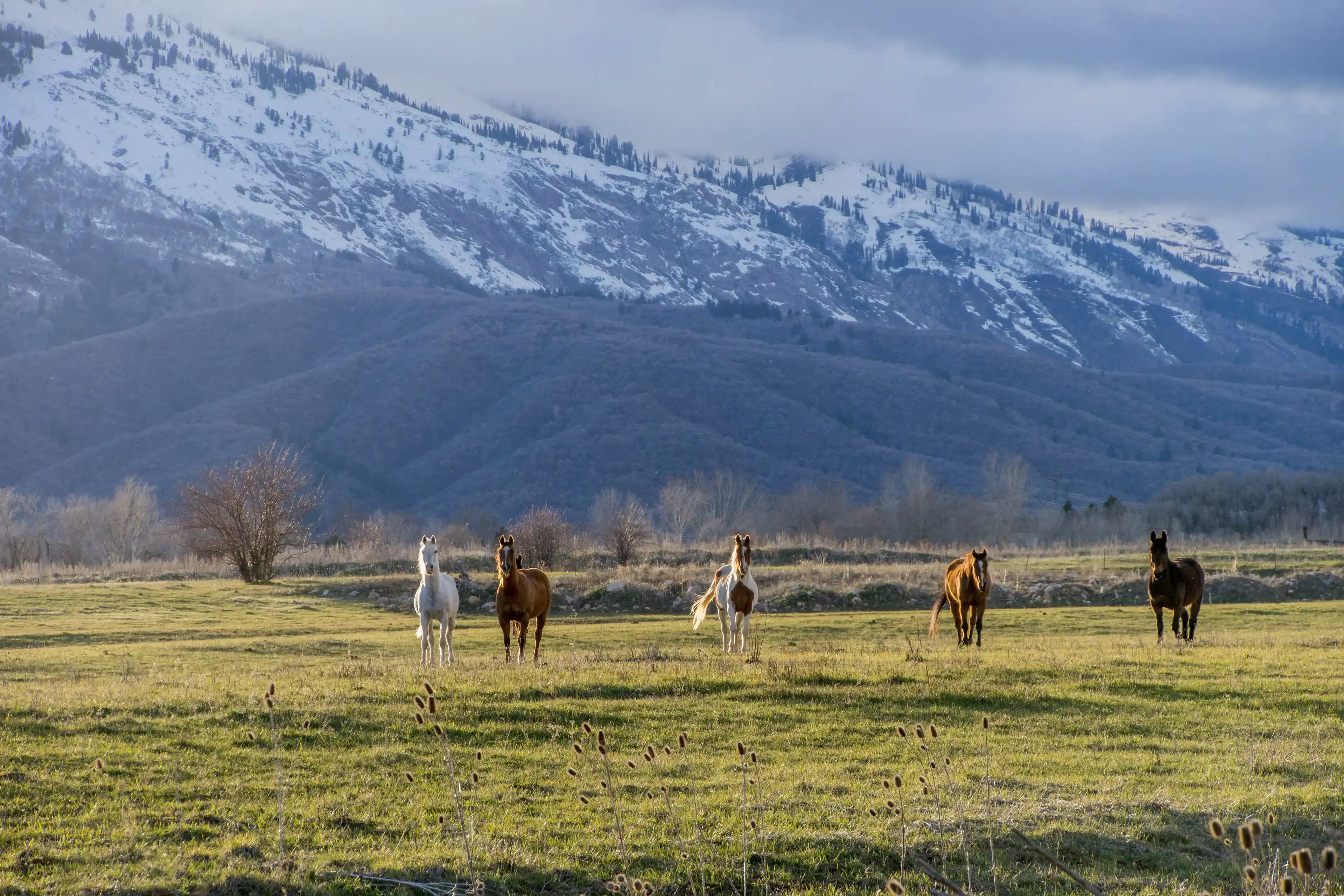 Liberty, Utah
The town of Liberty was named after an early settler in the mid-1800's remarked that both cattle and people took "full liberty" in the area. Liberty was settled more gradually than Eden and the area remained a farming and ranching community for many years. Today, just over 900 residents call Liberty home and though the area still clings to its farming and ranching roots, it has in recent years developed into a recreational community. It's wide open spaces and large lots make Liberty ideal for those seek horse properties. A gateway to the many outdoor hotspots in Ogden Valley, Liberty is also an ideal location for those that enjoy hiking, fishing, camping, and being readily immersed into nature. From Liberty, Nordic Valley Ski Area is about five minutes away, Powder Mountain is a short 25-minute drive east, and Snowbasin is roughly 30 minutes down south. In addition, Pineview Reservoir is within a 20-minute drive, and Liberty residents have quick access to North Ogden, Utah via the North Ogden Pass. Liberty is also home to a rodeo arena and the North Fork Park, a popular area for camping and backpacking in the summer and cross-country skiing and snow skating in the winter.
Things To Do
Liberty is a rural community with close access to some of Ogden Valleys most beautiful natural areas including North Fork Park and the North Fork Ogden River. Residents enjoy the close access to fishing, hiking, camping, mountain biking, open spaces to ride horses and atv's as well as camping and cross country skiing in the Winter. North Fork Park in Liberty is situated on 1,000 hectares of mountain valley land in Utah's Wasatch Range. In the summer, the park welcomes thousands of guests at six large group areas and 181 individual campsites, and offers hike/bike trails, sand volleyball courts, horseshoe pits, horse corrals, and more. North Fork is considered a Dark Sky Park by the National Dark Ski Alliance with an extensive outreach program and innovative public art incorporating dark skies themes. This area offers a unique dark sky experience and remains a wild and rustic place that aims to provide a dark nighttime refuge for humans and wildlife alike. Liberty is located just minutes from Eden and a close drive to North Ogden, giving locals even greater opportunities for outdoor recreation and city amenities.
Real Estate in Liberty
Liberty, Utah is a rural yet growing area in the Ogden Valley. Full of open spaces and natural scenery, this is a perfect place for those who enjoy a tranquil lifestyle and plenty of opportunities to recreate and enjoy the outdoors with family and friends. Though a bit more remote than other areas in the Ogden Valley, Liberty is also one of the closest areas in the Ogden Valley to North Ogden Canyon Road, which gives Liberty residents access to the city amenities of North Ogden in less than 15 minutes. Also a short drive to the neighboring town of Eden where there are restaurants, ski resorts and a grocery store. Horse properties are abundant in this community and even new developments boast larger lot sizes, many of which back to open green spaces. Listen to the sound of birds and streams while basking in wrap around views from your new home in Liberty.