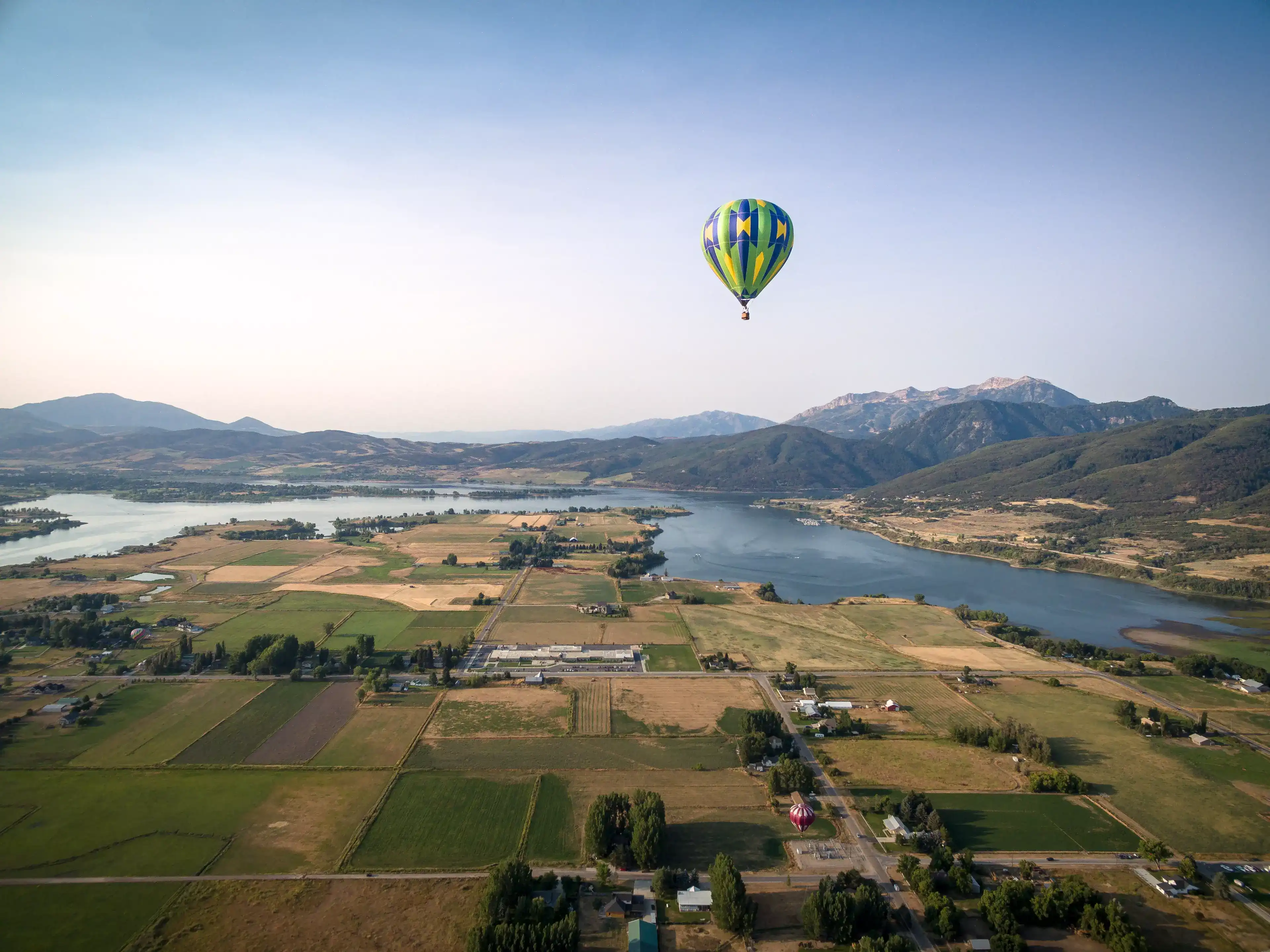 Eden, Utah
The name Eden is defined as paradise, which is exactly how it was described by it's original founder, Washington Jenkins. He deemed the area "the most beautiful he'd ever seen" and bestowed it with the name Eden in 1859. The land is composed of pristine rolling fields, sparkling waters, and stunning mountain landscapes from every angle. Portions of land throughout the Valley are protected and kept as pristine green space, creating abundant open spaces in the community. It has always been the desire of it's residents for development in the area to be compatible with and complementary to the natural environment and rural character of the valley.
The hub of Eden is a close-knit town center with a variety of eateries and shops. Small but walkable, Eden's town center provides the leisure to meet for a nice lunch, grab an organic fair trade coffee, buy some gifts and enjoy a pedicure, all within walking distance. As this sleepy town opens it's bright eyes to the future, new businesses and amenities are flowing into the Valley, providing it's residents with modern conveniences that pair nicely with the comfortable pace and way of life here in Eden. Gather with friends and family at Eden Park to enjoy the full size horse arena, soccer and football fields, the new children's playground, and the area's big events, such as the Ogden Valley Balloon Festival. 
As one of three towns that compose what the locals refer to as the Ogden Valley, Eden's winters are full of what Utah is known for: dry, fluffy powder. Eden is home to two ski resorts, Nordic Valley: a budget-friendly family resort, and Powder Mountain: a coveted ski destination that claims over 500 inches of snow each year with over 8,000 skiable acres. Snowbasin Ski Resort, home of the 2002 Winter Olympics, is just a short drive away in Huntsville, Utah. These local resorts provide something for everyone, at a lower cost and with shorter lift lines than most other Utah Resorts. Not a skier or boarder? Ogden Valley Ski Resorts offer a variety of Winter play for all ages and abilities. See the Valley from new heights by taking a gondola ride to 9000 ft. While you are there, stay for a gourmet lunch with a view! Winter hiking, fat tire biking, luxury shopping and amazing eateries are all at your finger tips at Ogden Valley's Ski Resorts.
In the heart of Ogden Valley is Pineview Reservoir, with serene views of the Wasatch mountain range. Huntsville borders the eastern and southern shores while Eden lays claim to the northern and western waterfronts. The reservoir is a great place to swim, boat, fish and paddle board. Whether spending the day on one of the many sandy beaches or enjoying the boat life, summer days on Pineview elicit childlike grandeur and awe. The lake, mountains, and valley floor are all rich with 4-season recreation.
While Park City is frequently commended as Utah's skiing destination, the less crowded Ogden Valley is the best-kept secret around and the locals strive to keep it that way. At an elevation of 4,941 feet compared to Park City's 7,000 feet, Winter in Eden is more moderate yet the area is still famous for it's amazing powder snow.
Things to Do
Eden is one of Utah's finest recreation meccas. It's also a small, rural town that prides itself in preserving the balance between growth and quality of life. These characteristics are what make Eden so unique. Approximately 800 residents call this rural mountain town home. Locals enjoy the comfortable pace, open spaces and small downtown, with not even a single stoplight! It's a popular getaway spot for outdoor adventurers with year-round recreation and entertainment. During Summer months, kick back at the local bar and eatery in downtown Eden to enjoy mountain air, a great burger and beautiful mountain views. For those with finer tastes, discover the bounding views with friends, healthy gourmet bites and a glass of wine at Peddlers Café, one of Eden's newest restaurants. Taking a tour with a tasting at New World Distillery is another unique opportunity to sample the good life here in Eden! Pineview Reservoir is great for boating, swimming, paddle boarding, fishing, water skiing, and more. Golfers find a hidden paradise at Wolf Creek Resort where rolling green hills give way to scenic mountain views. Skiers, snowboarders, foodies and scenery junkies all can enjoy the three nearby ski resorts. Powder Mountain Ski Resort is a back country powder haven and holds the title of the largest ski resort in North America. Nordic Valley is an affordable family resort with one small hill, perfect for children and beginners. Snowbasin Resort was home to the 2002 Winter Olympics and famous for it's great variety of terrain.
Real Estate in Eden
Homebuyers in Eden can look forward to living close to the nearby backcountry-esque Powder Mountain Ski Resort and Pineview Reservoir. Homes for sale in this community range from private ranches and mountainside mansions to charming historical homes as well as condos and townhomes. The natural beauty of rolling hills, serene mountains, and awe inspiring vistas make Eden the optimal place to call home. So peaceful you can hear the birds and the aspen leaves rustling in the wind, Eden is as tranquil as it is full of adventure. Communities in Eden include Eagle Ridge, Wolf Creek Resort, and Crimson Ridge. The median real estate value for homes in Eden as of April 2022 is $1,114,000. This is an increase over 64% from 2021. The continual growth in home values in the area creates stable investment opportunities for buyers.