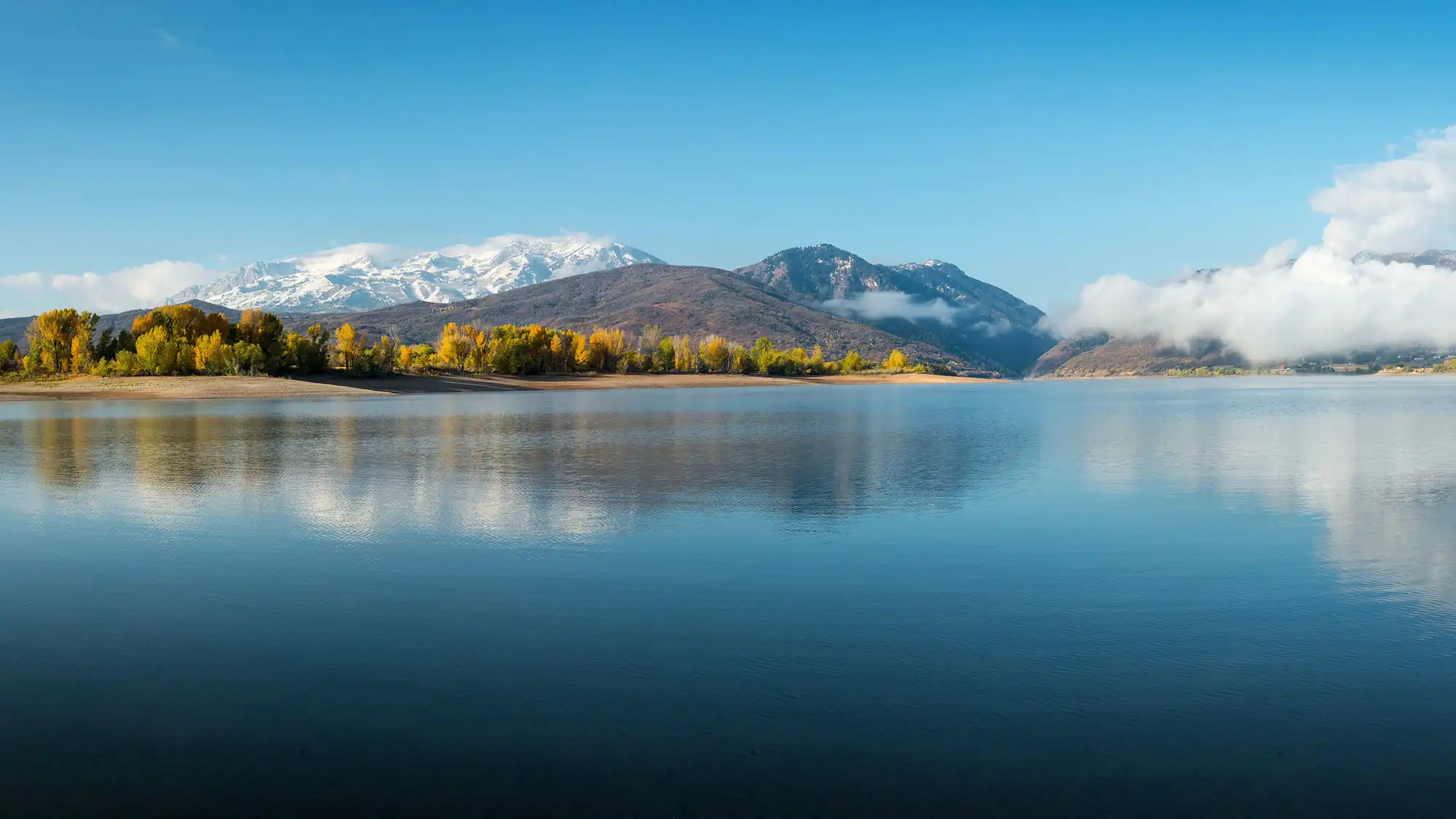 Huntsville, Utah Listings
Hunstville is unique, historic and far from a "cookie cutter" community. Homes in Huntsville, Utah are a unique mix of modern farmhouses to historic farmhouses, bungalows, luxury and craftsman style homes. Like a painting of a true western landscape, barns abound painted with images of America and greetings. Downtown is host to the Shooting Star Saloon, the longest continually operating bar in the state, dental office, restaurant, small hotel and two bed and breakfasts. Wrap up town with daily church bells ringing on the hour, a gas station and post office you have it, an Americana small town holding on to its' roots.
As a bonus, Pineview Reservoir and Bear Lake are the only two lakes in Utah able to have homes built on the shoreline. Live in lakeside luxury just minutes from the best ski resorts in Utah. With 900' of lake frontage this offering is a rare opportunity to own one of a handful of waterfront estates in Utah.
Huntsville is akin to a Norman Rockwell painting come to life. American flags conspicuously line the streets on Federal holidays. The town center is a beautiful park taking up a full city block with a stage, playground, soccer field, volleyball, tennis courts, pickleball, basketball court and bowery all wrapped by towering 100-foot evergreens. Huntsville is famous for it's 4th of July celebration which includes a local parade with tractors, a mounted posse, local family floats and children with patriotic streamers floating behind their bikes. Winter offers a free ice skating rink maintained by volunteers with pick up hockey games and an invitation for all to get out and enjoy winter.
Home to 2002 Winter Olympic Venue, Huntsville's own, Snowbasin Resort, is a great local amenity for entertainment, four season recreation and dining. Huntsville is one of the most beautiful and quiet towns of the Rockies. As one of three towns that compose what the locals refer to as the Ogden Valley, Huntsville Town encompasses the essence of mountain living. Huntsville town is rich with history and community, known for it's quiet pace of life and close proximity to some of Ogden Valley's most desirable outdoor recreation. Eden, Utah to the north is home to two ski resorts, Powder Mountain – perfect for those looking for the backcountry thrill without the risk, and Nordic Valley – a beginner and family friendly mountain. Three ski resorts within 20 minutes with the world's greatest snow, a gorgeous lake and direct access to miles of endless mountain trails, this small town mountain mecca is one of the best kept secrets in the West.
Pineview Reservoir is at the heart of Ogden Valley, bordered by Huntsville on both the eastern and southern shores and by Eden on the northern and western shores. Even on the busiest days, there is plenty of room on the lake to throttle a boat to the max, snake your way around on a sailboat or paddle in peace. The Ogden Valley is a local favorite for visitors from neighboring cities like Ogden and Mountain Green, bringing more volume to the area during weekends. Residents enjoy the excitement of the weekend bustle of boats and festivities but also rejoice in the long stretch of quiet tranquility that they experience all throughout the week in what feels like their own private mountain playground. Whether it is spending the day on one of the many sandy beaches or enjoying the boat life, summer days on Pineview elicit childlike grandeur and awe. Set amongst serene views of the Wasatch and Monte Cristo mountain ranges, the lake, mountains, and valley floor are all rich with 4-season recreation.
While Park City is frequently commended as Utah's skiing destination, the Ogden Valley is the best-kept secret around and quickly gaining recognition as one of the West's most pristine outdoor playgrounds. The elevation of Huntsville is 4,928 feet compared to Park City's 7,000 feet, so the weather is more moderate taking the chill out of winter but leaving the beautiful snow. The ski resorts of Ogden Valley (Snowbasin, Powder Mountain, and Nordic Valley) allow for ample ski runs without the lift lines found at Park City Mountain and Deer Valley Resort. Those who have visited other ski towns in the West all agree that Ogden Valley offers an experience with shorter lift lines, more skiable acreage, a more moderate climate and all at a more affordable price than towns like Park City, Aspen or Vail. Huntsville is adventurous. Residents are even allowed to legally riding snowmobiles or ATVs right through town. Also charming, this is a place where neighbors lend a helping hand, families commune together at the town center while kids play at Huntsville Park and wooden boardwalks still greet you as you enter some of the towns storefronts. There is a city library, park, a coffee shop, eateries and the oldest bar in Utah (and one of the best burgers too) are all walking distance within Huntsville Town Center.