Blues, Brews, and BBQ Concert Series - Monophonics & The 321s
---
May 6, 2022
The Blues, Brews, and BBQ Concert Series at Snowbasin is officially in full swing.  Six shows are in the books and nine remain.  If you still have not been to a Blues, Brews, and BBQ show, shame on you!  The food is always delicious, the performances have been spectacular so far, and, best of all, admission is free.  Don't miss out!  The Blues, Brews, and BBQ Concert Series resumes this Sunday, August 4th with performances by Monophonics and special guest The 321s.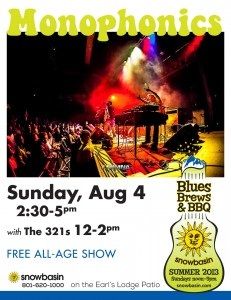 Monophonics is a six-piece psychedelic soul and funk band from San Francisco.  Formed in 2005, Monophonics released its first album, Playin' & Simple, in 2007 and its second album, Into the Infrasounds, in 2010.  With these two releases, Monophonics exploded in popularity.  In a few short years, the band progressed from playing             small Bay Area venues to playing more than 150 shows across seven countries in 2012.  In that same year, Monophonics released its third studio album, In Your Brain, which the band considers its finest release to date.  This album brought Monophonics even more success in the form of plays on the radio, critical acclaim, and more international tours.  In fact, Monophonics just returned from a stint in Europe.  To see what all the hype is about, come catch Monophonics at the Patio at Earl's Lodge on Sunday.
Joining Monophonics on stage at this edition of Blues, Brews, and BBQ will be special guest The 321s, a five-piece garage rock 'n' soul band from Salt Lake City.  Formed in 2011, The 321s plays songs that "make you dance."  SLUG Magazine describes The 321s' sound as "sugary sweet retro pop music that calls to mind doo-wop groups of the '50s and '60s…"
So if you're in the mood for some good old soul music, you don't want to miss this show with Monophonics and The 321s.  It's an all-ages show, so bring your whole family and have a good time.  The best part—admission is entirely free!
The 321s will take the stage at the Patio at Earl's Lodge at 12:00 pm, followed by headliner Monophonics at 3:00. 
Earl's Lodge is located at the base of Snowbasin, just beyond the main parking lots.  The Patio is located around the back of the building; you should have no trouble finding it.  Again, admission to this Blues, Brews, and BBQ concert is free and open to all ages.  Delicious BBQ grub and beer will be available for purchase. 
To learn more about Monophonics, click here.  To learn more about The 321s, click here.
Keep an eye on our blog for details regarding the next concert in Snowbasin's Blues, Brews, and BBQ Concert Series.
Trent Olsen contributed to this article.
Company Profile
Mountain Luxury Real Estate is a division of Mountain Real Estate Companies that features some of real estate's most amazing properties.  Mountain Real Estate Companies consists of two additional divisions, Mountain REO and Mountain Living.  Please visit our website to learn more about us.  For our most recent updates, follow us on Facebook, Twitter, and Pinterest.
Sorry, nothing matches that search.