Blues, Brews, and BBQ Concert Series - Whitewater Ramble and Moses Guest
---
May 10, 2022

All right, friends.  It's time for our weekly Blues, Brews, and BBQ post.  If you still have not yet had the chance to catch a show in the Blues, Brews, and BBQ Concert Series at Snowbasin, you've missed a few good performances.  But you still have plenty of opportunities to see some exceptional live music, with eleven performances still remaining on the schedule.  This Sunday, July 21st, the Blues, Brews, and BBQ Concert series will bring Whitewater Ramble and special guest Moses Guest to the Patio at Earl' Lodge.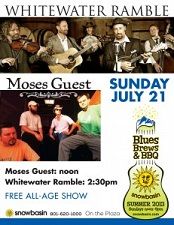 Whitewater Ramble is a five-piece group that describes itself as a "High-Octane Rocky Mountain DanceGrass" band.  Based in Fort Collins, Colorado, Whitewater Ramble released its first studio album, All Night Drive, in 2010 and its second studio album, Roots & Groove, in 2012.  Fans and critics alike have fallen in love with Whitewater Ramble following these two releases; both albums have received positive reviews and critical acclaim.  What fans love most about Whitewater Ramble is the band's unique sound.  According to the band's website, Whitewater Ramble achieves this distinct style by combining "the elements of mandolin, fiddle, acoustic guitar, upright bass, drums and vocals to explore the musical boundaries of multiple genres and to fuel their own mixture of original music and innovative cover song interpretations."  To see what all the hype is about, come to Snowbasin on Sunday and catch Whitewater Ramble at the Patio at Earl's Lodge.
Sharing the Blues, Brews, and BBQ stage with Whitewater Ramble will be special guest Moses Guest, a four-piece southern rock band from Houston, Texas.  Led by frontman Graham Guest, Moses Guest formed in 1995 and released its first full-length studio album (American Trailer Home Blues) in 1997.  Sixteen years, three albums, one EP, and countless performances later, Moses Guest is still rockin' and playing shows across the western United States.  Audiences love Moses Guest because the band combines southern rock music with "just enough Pop, Jazz, Funk, and Country" to appeal to any and all music fans.
If you have not been to a Blues, Brews, and BBQ concert yet, this is the perfect show to start with.  We're excited for this one; from what we've seen in YouTube videos and read in online reviews, both Whitewater Ramble and Moses Guest put on a great show.  In addition, this is an all-ages show, so bring your kids! 
Moses Guest will take the stage at the Patio at Earl's Lounge at 12:00 pm, followed by headliner Whitewater Ramble at 2:30. 
Earl's Lodge is located at the base of Snowbasin, just beyond the main parking lots.  The Patio is located around the back of the building; you should have no trouble finding it.  Admission to this Blues, Brews, and BBQ concert is free and open to all ages.  Delicious BBQ grub and beer will be available for purchase. 
To learn more about Whitewater Ramble, click here.  To learn more about Moses Guest, click here.
Keep an eye on our blog for details regarding the next concert in Snowbasin's Blues, Brews, and BBQ Concert Series.
Trent Olsen contributed to this article.
Company Profile
Mountain Luxury Real Estate is a division of Mountain Real Estate Companies that features some of real estate's most amazing properties.  Mountain Real Estate Companies consists of two additional divisions, Mountain REO and Mountain Living.  Please visit our website to learn more about us.  For our most recent updates, follow us on Facebook, Twitter, and Pinterest.
Sorry, nothing matches that search.