Home for Sale - 3159 E 4400 N
---
May 3, 2022
Announcing a Liberty home for sale near Ogden Valley ski resorts
Mountain Luxury Real Estate is pleased to present this home for sale at 3159 E 4400 N in Liberty, Utah.
Are you searching for a luxurious yet affordable family home in Ogden Valley?  Look no further; this home may be just what you're looking for.  There's much to love about this beautiful ranch-style home.  To see just what we love about it, simply read on!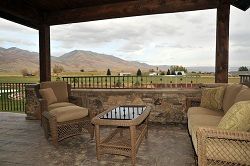 For one, this home offers ample living space for you and your family—more than 5,800 square feet, to be precise.  All that square-footage is spread across three floors.  The 2,313-square-foot main floor offers two bedrooms, including the master suite, as well as two-and-a-half bathrooms.  The downstairs level offers two additional bedrooms and another full bathroom.  All told, this home offers a total of four bedrooms and three-and-a-half bathrooms, as well as three formal family rooms. 
That's right—three family rooms!  Each level contains its own gathering area.  The living room on the downstairs level is the most impressive.  This area offers a private wet bar, daylight walkout access to the back yard, entertainment space, and even a theater room.  The living room on the main floor features a formal sitting room with a gorgeous stone fireplace and huge Pella windows that let in impressive views of the beautiful scenery that surrounds this home.
Speaking of the fireplace and the Pella windows, another aspect of this home that we love is all the elegant touches and features with which this home is equipped.  This includes exposed timbers, vaulted ceilings, gorgeous hardwood floors, luxurious cabinetry, a covered porch, granite countertops, wood trimming throughout, and a butler's pantry—just to name a few!
Finally, another thing we love about this home is its location.  Nestled in the Bailey Acres neighborhood of Liberty, this home is located within short driving distance of many popular destinations in Ogden Valley.  Wolf Mountain, for instance, is just ten minutes away, while both Snowbasin and Powder Mountain are within about 30 minutes.  In addition, Pineview Reservoir is just minutes away.  Pineview is great for boating, fishing, camping, swimming, or simply relaxing on the beach.
This home is presented for $749,000.  If you wish to see in person all that this home has to offer, give us a call today and we can set up a private showing at 3159 E 4400 N.  We also invite you to take an online tour here.
Mountain Real Estate Companies
Mountain Luxury Real Estate is a division of Mountain Real Estate Companies that features some of real estate's most amazing properties. Mountain Real Estate Companies consists of two additional divisions, Mountain REO and Mountain Living. Please visit our website to learn more about us. For our most recent updates, follow us on Facebook or Twitter.
Sorry, nothing matches that search.