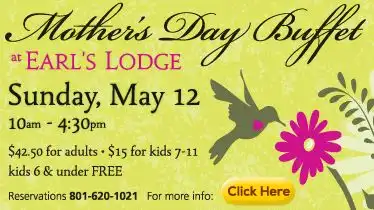 Mother's Day Brunch Buffet at Snowbasin
---
May 8, 2022
Are you looking for a special way to honor the mothers in your life this Mother's Day? We know of just the thing you're looking for. On Sunday morning, bring the moms you know - whether it be your mother, your wife, your daughter, or whomever - up to Snowbasin for the resort's annual Mother's Day Buffet at Earl's Lodge.
Located at the base of Snowbasin, Earl's Lodge is "pure mountain luxury... the embodiment of what a western ski lodge is supposed to be," according to the resort's website. Earl's Lodge houses lounge areas; rental space for weddings and banquets; and a dining room, which usually serves pizza, burgers, salad, and soup for lunch and dinner, and omelets, French toast, burritos, egg sliders, and more for breakfast. But every Mother's Day, Earl's Lodge unveils a special menu for its grand Mother's Day Buffet.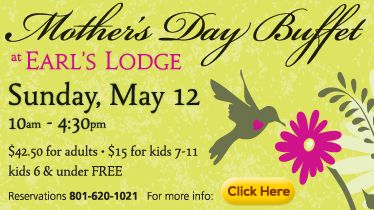 At this year's Mother's Day Buffet, Earl's Lodge will offer a carving station with prime rib and roasted turkey; a seafood station with shrimp, crab legs, smoked salmon, mussels, and oysters; cold selections, such as fruit, salads, cheese, and more; omelets and crepes made to order; and, of course, desserts. In addition, Earl's Lodge will also offer a few select entrees, such as a carved leg of lamb with stewed vegetables, grilled salmon with couscous, eggs benedict, French toast, and much more. The Mother's Day Buffet at Earl's Lodge offers a little something for everybody.
Earl's Lodge will open its doors at 10:00 am on Mother's Day morning and will remain open until 4:30 that afternoon. Seating is limited, so if you wish to attend, Earl's Lodge requests that you call ahead and set a reservation. The cost of admission for the Mother's Day Buffet is $42.50 for adults and $15 for children from ages six through twelve. Children under the age of six are free.
After you're finished eating at Earl's Lodge, be sure to experience all that Snowbasin has to offer while you're there. Though the snow will likely be melted and the lifts will be closed, Snowbasin still offers many things to do. For example, the trail network at Snowbasin will be open, and you'll find many beautiful trails there. The disc golf course will be open, as well.
Or, head down to Ogden Valley after your meal and explore the natural attractions there. Take the family for a swim in Pineview Reservoir at Middle Inlet Beach near Huntsville, or hike North Arm Trail near Eden. You'll find no shortage of things to do with your family in Ogden Valley.
To see the entire menu, click here. To set your Mother's Day Buffet reservation at Earl's Lodge, call 801-620-1021.
To see more upcoming events in Ogden Valley, click here.
Trent Olsen contributed to this article.
Company Profile Mountain Luxury Real Estate is a division of Mountain Real Estate Companies that features some of real estate's most amazing properties. Mountain Real Estate Companies consists of two additional divisions, Mountain REO and Mountain Living. Please visit our website to learn more about us. For our most recent updates, follow us on Facebook, Twitter, and Pinterest.
Sorry, nothing matches that search.