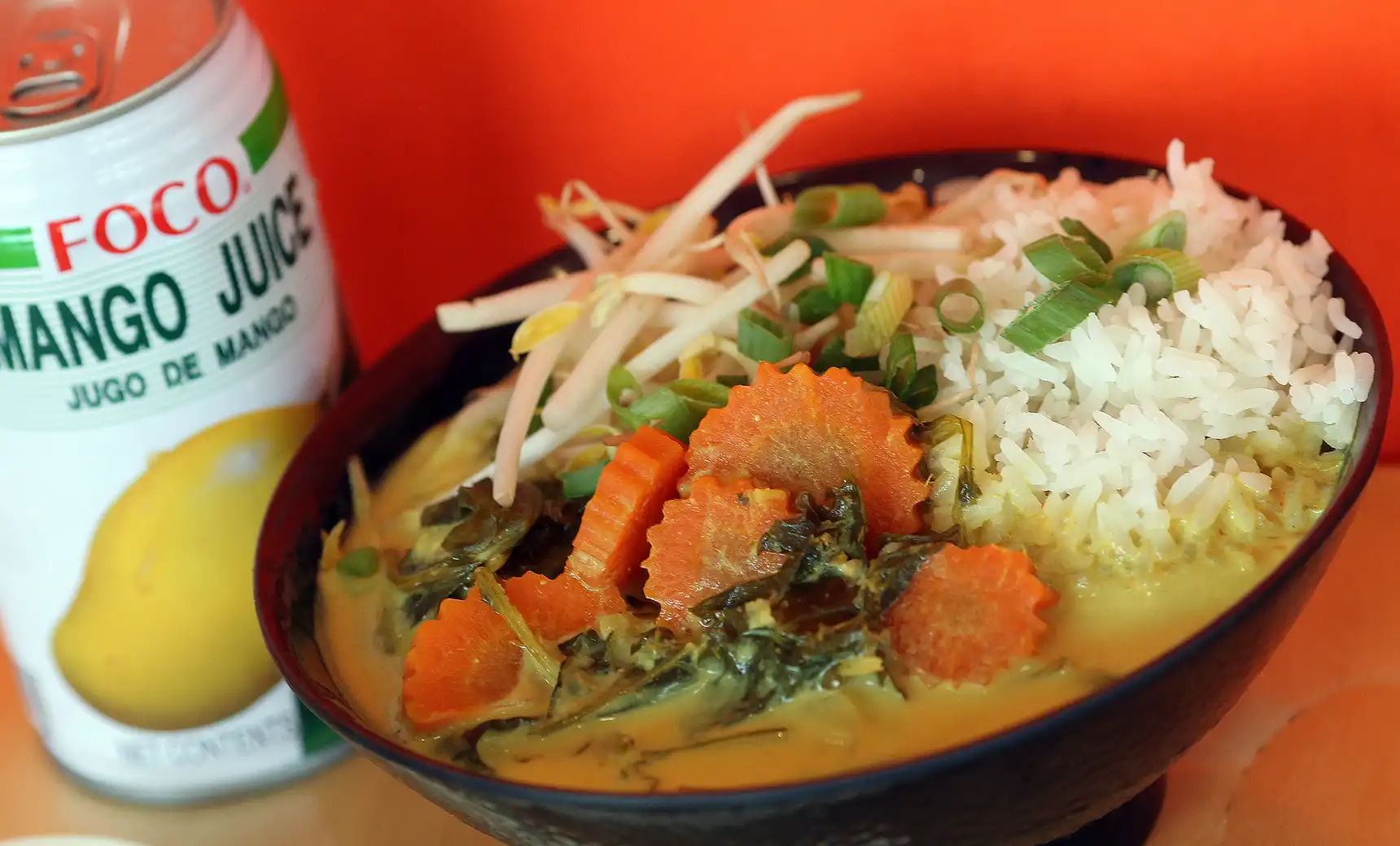 Music Festival Inspires Thai Curry Kitchen
---
Brian Nicholson | January 18, 2023
Thai Curry Kitchen
By Brian Nicholson, Mountain Luxury
It might seem strange that the inspiration for a Thai themed restaurant would come from a place like the Grand Targhee music festival, but that's exactly what happened. The light bulb went on over Steve Ballard's head as he was looking for some lunch at the festival, located an exotic 7,842 miles away from Thailand on the western slope of the Tetons in Alta, Wy.
"The festival was selling everything from hamburgers, hotdogs and the usual junk," said Ballard. "But there was one food vendor with a longer line than everyone else, so I thought I would go take a look." That vendor happened to be an older American guy and his wife, very likely from Thailand, who had the most simple set up for serving food.
These vendors had a table, two crock pots, and a bunch of large coolers. The coolers weren't for drinks, but rice. "You would approach the table and she would say, 'green or yellow?'" said Ballard. "Then she'd open a cooler, scoop out some rice, then ladle the contents of the crock pot over the rice, take your $5 and you were on your way."
Ballard, who has a food background, started looking around at their equipment, which was also very minimal and inexpensive. "It was so fast, and so good, and it was a good price. Those are three things that are hard to find, food that's fast, fresh and cheap," he said. "Curry is all that. 
That simplicity, and a ton of research on fresh products from Thailand, has resulted in one of the most healthy and speedy choices for food in Ogden. Thai Curry Kitchen, located at the corner of Jefferson and 25th Street, serves green, red, white and yellow curries and several salads and drinks authentic to Thailand. 
Steve Ballard and his wife Emily have placed a high priority on providing a healthy food option that's super quick and affordable. After making tons of curry, eating tons of curry and experimenting with a host of different ingredients, the recipes were finally ready. 
"It's like soup or stew and actually tastes better the next day," said Ballard. "The more we started looking at curry, it's dairy free, it's gluten free, I mean, this is healthy food." "When our kids ask if they can come and get curry, it's hard to say no because it's just so much better for them," said Emily Ballard.
The simplicity of the concept extends to the menu as well. There are eight curries, two of which are vegan, four salads, spring rolls and the ever popular Thai dessert, a delicious bowl of sticky rice and mango.
The only thing about this simple formula that's not simple?, all the amazing and complex flavors.
There are two types of curry in Thailand. Jungle curry comes from the northern part of the country, which is close to Burma where there is a shortage of coconut trees. Their Red Chicken Curry is a jungle style curry with a spicy blend of edamame, poblano peppers, potatoes, carrots and scallions.
All other curries on the menu are coconut based, inspired by those found in the southern portions of Thailand. The various color of the curry is a representation of the type of chilies used in the recipe. If a curry is white, it means there were no peppers used for flavor.
"A lot of people think curry is one flavor or one plant, or something, but curry is just a combination of aromatics, like ginger, galangal, turmeric, kaffir lime and lemon grass," said Steve Ballard. "In addition, those curries are different in Japan, they're different in Burma, India, Thailand, but the distinguishing feature in Thai curries is the coconut base," he said
Once the curry base is perfected, you can add any number of ingredients like meat, vegetables fruits or grains, to make the final dish. For the Ballards, it was really a lot of experimentation of which curry flavor paired best with which ingredients, and how to make sure it was flavorful, fresh, fast and affordable.
It's been over 3 years since that seed was was first planted from the Grand Targhee music festival, and Ogden foodies are reaping the rewards of the Ballard's hard work: a flavorful, healthy and authentic option for Thai curries.
Sorry, nothing matches that search.