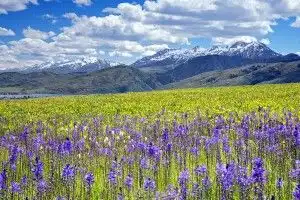 Ogden Valley Wildflower and Landscape Photography Workshop
---
May 3, 2022
Do you enjoy photography as a hobby in your free time? Or are you a professional photographer who photographs for a living? Well, no matter your skill or interest level, you'll love honing your nature photography skills at the 2013 Ogden Valley Wildflower and Landscape Photography Workshop.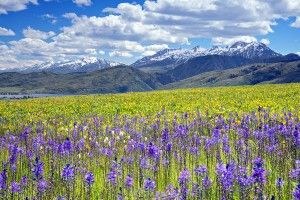 Presented by Bill Singleton of Shutterific Photography, in partnership with the Ogden Valley Business Association, the Ogden Valley Wildflower and Landscape Photography Workshop will be held Friday, June 14th and Saturday, June 15th. The workshop will begin at 4:00 pm on Friday and will continue at 5:30 am on Saturday at the Rendezvous Lodge at Huntsville Village (7355 E 200 N) in Huntsville, Utah.
At the first session of the workshop on Friday evening, Bill Singleton will discuss the best photography equipment to use for close-up and scenic landscape photography, the proper way to use such equipment to achieve your desired effect, how to process your photographs after taking them, and much more. In addition, Bill will take students out for an outdoor evening photography session after this initial instruction.
On Saturday morning, Bill will take students out again for an outdoor morning photography session. Following this session, students will return to class for more instruction regarding post-processing. In addition, Bill will review and critique students' photographs from the previous two outdoor sessions. After a break for lunch, this instruction will continue in the afternoon and will be capped by a question and answer session with Bill. Finally, Bill will take students out to the field for one last outdoor evening photography session to apply everything they've learned during the workshop.
Space is limited in the Ogden Valley Wildflower and Landscape Photography Workshop, so if you wish to participate, we recommend you register as soon as possible. The registration deadline is June 6th, but we still recommend registering as early as possible. Registration costs $250.00 prior to May 20th and $275.00 after May 20th.
To learn how to register for the Ogden Valley Wildflower and Landscape Photography Workshop, click here. This webpage also offers information regarding what equipment to bring if you decide to participate in the workshop.
If you are coming from out of town or out of state to attend the workshop and are looking for lodging in Ogden Valley, we encourage you to check out Lakeside Resort Properties. Located on the southern shores of Pineview Reservoir, Lakeside Resort Properties is the finest lodging accommodations in Ogden Valley. Contact us at 801-745-8400 for more information.
And while you're here for the Ogden Valley Wildflower and Landscape Photography Workshop, be sure to experience all that the area has to offer. Dine at one of Ogden Valley's fine restaurants, such as Harley and Buck's, Huntsville BBQ Company, or The Oaks in Ogden Valley. Rent a watercraft from Club Rec and explore Pineview Reservoir. Or arrange a guided trip with Red Cliff Ranch Outfitters. These trips will take you through the beautiful Monte Cristo Mountains east of Ogden Valley, and we can't think of a more perfect place to practice your new found skills you developed at the Ogden Valley Wildflower and Landscape Photography. You'll find no shortage of things to do in Ogden Valley.
Feel free to contact us with any inquiries. To see more upcoming events in Ogden Valley, click here.
Trent Olsen contributed to this article.
Company Profile
Mountain Luxury Real Estate is a division of Mountain Real Estate Companies that features some of real estate's most amazing properties. Mountain Real Estate Companies consists of two additional divisions, Mountain REO and Mountain Living. Please visit our website to learn more about us. For our most recent updates, follow us on Facebook, Twitter, and Pinterest.
Sorry, nothing matches that search.