Ragnar Trail Relay Snowbasin
---
May 8, 2022
If you follow our blog regularly, you know that trail-running is one of our absolute favorite past times.  Fortunately for us, living in Ogden Valley affords us plenty of opportunities to quench our trail-running thirst, as this area is home to countless trails that are perfect for running.  Do you love off-road running as much as we do?  Then we encourage you to check out the Ragnar Trail Relay at Snowbasin on August 16th and 17th.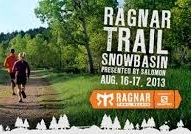 First of all, what is a Ragnar Trail Relay?
You may know all about the Ragnar Relay Series from this article we posted on our blog to promote the Ragnar Relay–Wasatch Back race earlier this summer, but a Ragnar Trail Relay race is slightly different than a traditional Ragnar Relay race.  As opposed to a traditional Ragnar Relay, which is run on pavement, a Ragnar Trail Relay is—you guessed it—run entirely off-road.
The Ragnar Trail Relay Series consists of six trail races across the country, and two of these races are held in Utah: Ragnar Trail Relay Zion near Zion National Park and Ragnar Trail Relay Snowbasin at Snowbasin Resort in Huntsville.
So, how exactly does the Ragnar Trail Relay Snowbasin work?
First, you must form a team of either eight runners (regular team) or four runners (ultra team).  The course consists of three trail loops, and the runners of every team take turns running each loop.  For regular teams, for example, each runner runs all three loops once—three laps per runner for a total of 24 laps around the entire course.  For ultra teams, on the other hand, each runner runs all three loops twice—six laps per runner for a total of 24 laps around the course.  Make sense?  Click here to see a graphic that illustrates how it works.
The three trail loops that make up the Snowbasin relay course include the Green Pond Trail, Last Chance Trail, and Porcupine Trail. 
Only one runner from each team is allowed on the course at a time.  While their teammate is busy running his/her leg of the relay, the remaining team members hang out at Ragnar Village, which is essentially a party zone.  Since each trail loop begins and ends here, and since this is the relay exchange point, Ragnar Village is the epicenter of all the action.  Ragnar Village offers a bonfire, live music, food and snacks, coffee and hot chocolate, camp games, and more.
Furthermore, since the Ragnar Trail Relay Snowbasin race lasts all night, Ragnar Village also serves as the camping area for all the teams.  Each team will be assigned its own site, and the team that decorates its campsite the most elaborately and creatively will receive awards and prizes at the end of the race. 
Note: Registration for this year's Ragnar Trail Relay Snowbasin is now closed, and we apologize we didn't publish this blog post sooner.  If you still wish to participate this year, you may visit Ragnar Trail Relay's Facebook page and post an inquiry to see if any need to fill vacant slots. 
Even if you are unable to participate in the relay, you may still visit Snowbasin on August 16th or 17th to check out Ragnar Village.
Again, we apologize for not posting about this event prior to the closing of registration.
Follow our blog for more information regarding other upcoming events in Ogden and Ogden Valley.
Trent Olsen contributed to this article.
Company Profile
Mountain Luxury Real Estate is a division of Mountain Real Estate Companies that features some of real estate's most amazing properties.  Mountain Real Estate Companies consists of two additional divisions, Mountain REO and Mountain Living.  Please visit our website to learn more about us.  For our most recent updates, follow us on Facebook, Twitter, and Pinterest.
Sorry, nothing matches that search.