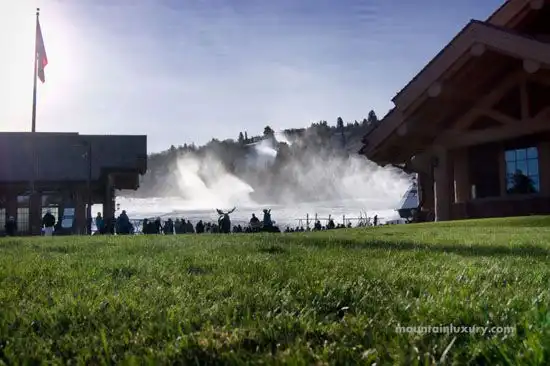 Snowbasin Ski Resort's Official Start of the 2012-2013 Ski and Snowboard Season
---
May 8, 2022
I got a chance to sneak out Thanksgiving Day, November 22, 2012, to help mark the official start of the 2012-13 winter ski and snowboard season at Snowbasin in Ogden Valley. I've never been big on catching the first chair of the day, or even waiting for a ski gate to open. But today, I really wanted to check out the scene and take some photos of the first gondola ride up the mountain.
It hadn't snowed for some time, there wasn't much snow on the ground, and the night temps weren't great for snow-making. Never the less, I knew the core community of locals wouldn't miss opening day and were about to rejoice in its opening. I wanted to be a part of it.
For opening day, Snowbasin was offering skiing & snowboarding off the Middle Bowl Triple and Little Cat Quad lifts. Skiers and snowboarders were uploaded and downloaded on the Needles Gondola for Middle Bowl lift access. There was no top to bottom skiing and snowboarding. The following runs were groomed and open: Sweet Revenge, Powder Puff, Strawberry Traverse, Middle Bowl Traverse and Porcupine Traverse. Snowbasin was also offering two "pocket" terrain parks containing several features along the open trails.
Here is a glimpse of Utah's 2012-2013 Snowbasin Season Opener.
Sorry, nothing matches that search.