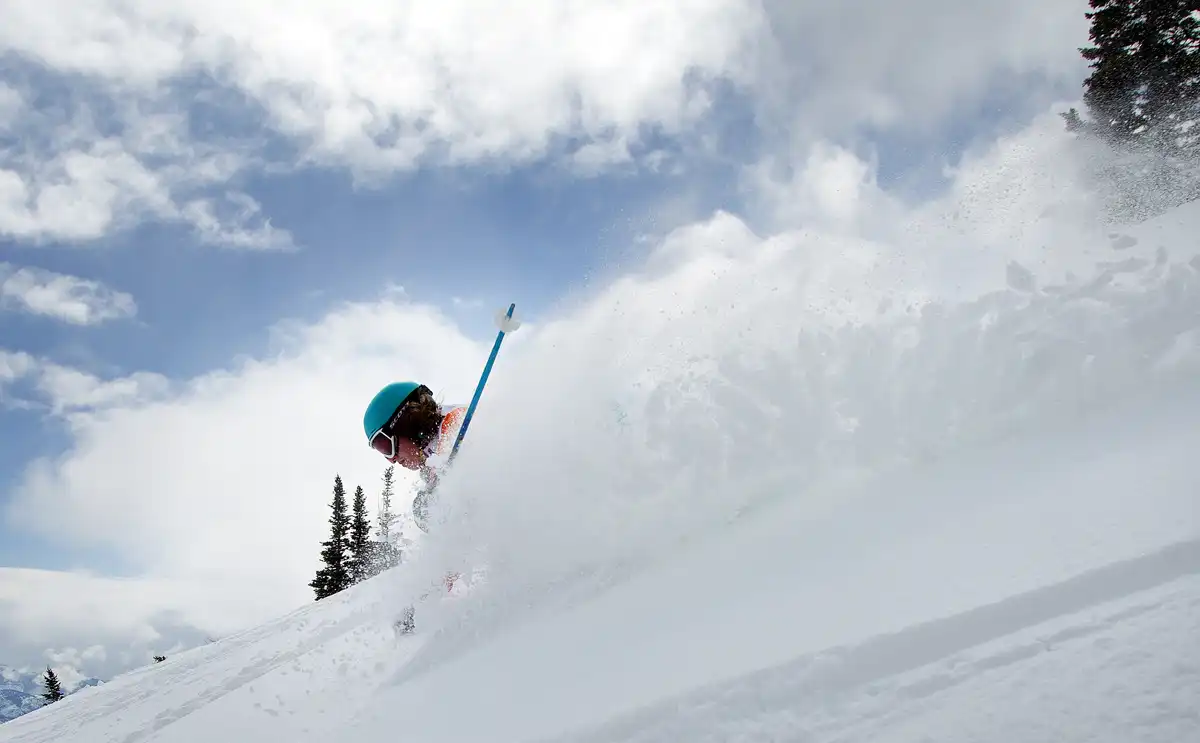 Spring Break in Ogden
---
Brian Nicholson | March 7, 2023
By Brian Nicholson, Mountain Luxury
Fort Lauderdale? No way. Las Vegas? Save it. Cancun? Gracias, pero no. There's plenty to NOT leave home about during spring break right here in Ogden, why go anywhere else? 
Spring break is typically an excuse to make like migratory birds and head south to find a warmer roost. The sunshine and accompanying vitamin D can be alluring after staring at grey skies and cold temps for most of the winter. However, before making one too many swipes with the plastic money, take a look at what Ogden has to offer during a much needed break from school. Most of these activities are likely the same reasons you chose to live here in the first place.
Reason #1 - Epic Snow Pack.
Think about it. Most of the past few years around the first of March, the ski resorts were scratching their heads at the possibilities of closing earlier then they ever have. This year, that's hardly the case. The ski runs have received 200% of normal snow fall, which means there's no need to break out those spring rock skis just yet. There's good quality snow up there, and a lot of it. More of it is falling from the sky and sticking to the ground even as I write. We recommend Snowbasin, Powder Mountain and Nordic Valley resorts. They all have their differences, but one thing is for sure, the skiing will be unforgettable.
Reason #2 – Hey Foodies, It's Restaurant Week! 
The fifth annual Ogden Restaurant Week is taking place April 6-15! That means 25 of Ogden's best independent, locally-owned restaurants are offering up their best dishes at super reduced prices. These mouth watering, wallet friendly meals are a perfect way for you foodies to try out new restaurants maybe not currently found in your date night repertoire. The list of restaurants gets larger each year, so choose wisely. The cuisine varies as widely as you could imagine, from fine sushi, to gourmet burgers and fries. It's an experience the whole family can enjoy.                    
Reason #3 – Northern Utah's Best Spring Half Marathon
On April 8th, the Striders Winter Race Circuit Half Marathon will take place in the aptly named Eden, Ut. This event is organized by the GOAL Foundation, a rock solid community organization dedicated to helping people "Get Out And Live" by participating in outdoor recreational activities. This half marathon is an awesome way to preview the first portion of the Ogden Marathon course, and get a feel for why this city is named Eden. You'll find plenty of Paradise, and no serpents along this running tour of Ogden Valley. With views that just don't quit, this speedy half marathon is a "must do" on any runner's bucket list.
Reason #4 – Unprecedented Flows in the Ogden River
Kayakers have been flocking to this spot since February and with all the water pouring off the rocky cliffs, that trend is likely not changing anytime soon. The high water flows are offering kayakers challenges they don't normally have access to, except during short periods of early spring. The top half of Ogden Canyon has been especially epic, and the bottom portion, known as the narrows, has even been un-floatable at times due to the massive amount of water passing through. This could be the year many kayakers have the chance to float the Ogden River to their heart's content.
Reason #5 – Miles and Miles of Snowmobiling
Many snow enthusiasts can't get enough of the white stuff, but prefer a sport a little less "self powered" than skiing. The Monte Cristo and Avon areas of Ogden Valley offer miles and miles of snowmobile trails. The high octane nature of snowmobiling is augmented by the spectacular views and serenity of the vast landscape of these secluded mountains. Riders can power their way through nearly a hundred miles of trails lined with aspens, pines, wide valleys and steep inclines. Just a short 15 mile drive from Huntsville east on Hwy. 39, recreationalists will discover Monte Cristo's "home base" with restrooms, gas, food and plenty of snow. And if you're in need of sleds, the Wolf Creek Adventure Center, operated by Club Rec has just what you need.
Reason #6 – Hiking That Just Won't Quit
Waterfall Canyon in the foothills of Ogden is a popular trail in the heat of summer, but the springtime offers a completely different view of the popular falls, and likely less foot traffic than normal. The trailhed may be accessed from the parking lot at the top of 29th Street. Adjacent to Waterfall Canyon, and beginning from the same trailhead, is the Malan's Peak trail. This challenging but short hike leads you up a steep incline to the outcropping peak about halfway up to Mount Ogden. The views from here are spectacular. On a clear day you can see into Idaho, deep into Salt Lake County and across the Great Salt Lake. Those are just the beginning of a web of trails all along the Wasatch Front 
Reason #7 – Bouldering "The Tooth, Patriot's Crack, and Lobster Rock"
Most passers-by see them and don't give them a second thought. But to the avid rock climber, the many large stones found along the Bonneville Shoreline Trail between 27th and 20th Streets each have a unique personality, and along with it, a unique name. Hidden Rock, The Tooth and Around the World are some of the most well known to bouldering enthusiasts, as well as The Lobster, Patriot's Crack and Stoner Rock. The collection of boulders seemed to all collect themselves in this one section known in the biz as The Boulder Field. Access from the top of 27th or Lake St. is the quickest way to find them, just grab your pad and chalk and follow the trails to the largest rocks you can find.
Reason #8 – Indoor Fun with Outdoor Flair
If the cold weather is still a concern, there are still a couple hot spots for outdoor activities, but in an indoor environment. The Salomon Center houses iFly, an indoor skydiving wind tunnel, iRock, a huge indoor rock wall, and Flowrider, an indoor surfing wave. IFly works closely with Skydive Ogden, a company operating during warmer months from the Ogden Hinckley Airport. The massive wind tunnel allows "jumpers" to feel the thrill of falling, but without having to jump out of a perfectly good airplane. Instructors are well trained and can help out regardless of skill level.
Surfers, boogie boarders and anyone looking for a new challenge should check out the Flowrider, a large indoor wave allowing thrill seekers to experience surfing a wave, but without the fake tans. This attraction popular among all age groups and is just as fun to watch as it is to do.
Reason #9 – Early Season Mountain Biking
Depending on the trail conditions, there could possibly be some pretty exciting options on the mountain biking scene. One of the earliest possibilities is the Ogden Bike Park. It sits on a south facing slope at the top of 9th Street and as such, the trails melt and dry out sooner then others. The bike park is a relatively new addition to Ogden's long list of outdoor attractions and features steep berms, huge jumps and plenty of rollers to keep your heart pumping. Each jump section has several alternate routes based on the rider's tolerance for big air. You can ride the same course as the pros and opt for jumps that are more forgiving if you prefer to keep the rubber on the road. The park is perched on the edge of the towering cliffs north of Ogden Canyon and offer views of the valley, that is, if you can take your eye off the trail.
Reason #10 – A Via Ferrata? Are you kidding?
That's right, a via ferrata, which means Iron Road in Italian. During World War I, the method was used to give Italian soldiers an advantage while fighting the Austrians for higher ground. The Mount Ogden Via Ferrata is located in Waterfall Canyon and consists of metal rungs made from rebar and bolted to the rocks. It's as simple as climbing a ladder. And all along, you're tethered to a cable to keep you safe from falling. It's a method for less experienced climbers to take on the challenge and trill of rock climbing, with all it's accompanying adrenaline and stunning views. For more information on gaining access to the Ogden Via Ferrata, contact them on Facebook.
Regardless of your choices for this year's spring break, there are a multitude of options right here in your back yard. They are certain to keep you busy and refresh your batteries just as much, if not more than a distant location, and at a much more affordable rate.
-----------------------------------------------------------------------
** Most of northern Utah schools are out the week of April 3-10. Weber State's spring break takes place on March 6-10. **
Sorry, nothing matches that search.