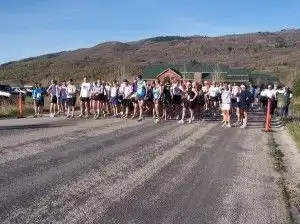 Striders Winter Racing Circuit 30k returns to Ogden Valley
---
May 10, 2022
On Saturday, April 27th, 2013, hundreds of runners from across the western United States will flock to Ogden Valley for the Striders Winter Racing Circuit (WRC) 30K.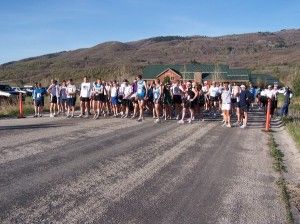 This 18.64-mile race is the fifth and final leg of the Striders WRC, the official racing and preparatory series for the Ogden Marathon. Previous races in the Striders WRC include a 5K (held early February), a 10K (held mid-February), a ten-miler (held early March), and a half marathon (held early April). The Ogden Marathon is on May 18th, 2013.
The Striders WRC 30K begins at 7:30 am at 2547 N Valley Junction Drive in Eden, Utah - the former site of Red Moose Lodge and the current home of Bee Hive Homes of Eden. From there, the course takes runners southeast through Eden on 2500 W, then turns due south on 5500 E and joins Highway 166. The course follows Highway 166 around the north shore of Pineview Reservoir, and at approximately the 5.5km mark, the course turns south again and enters Huntsville. Just before the 11km mark, the course leaves Highway 166 and turns east at 500 S. At the base of the Monte Cristo Mountains, the course turns north for a short distance, then turns west and runs along Highway 39 back toward Pineview Reservoir. Just before the 20km mark, the course re-joins Highway 166. For the final ten kilometers, the course follows the same route back to the starting point at Bee Hives Homes.
Striders offers aid stations, water and Gatorade stations, and portable restrooms at varying intervals throughout the course.
If you are registered in the WRC and have completed all the previous WRC races, Striders invites you to attend an award ceremony following the race (around 12:00 pm). No matter where you placed in any of the WRC races, all racers who complete all five races will receive an award.
If you are not registered in the WRC and have not competed in all the previous races but would still like to participate in the Striders WRC 30K on Saturday, you may certainly do so. Registration is open until the beginning of the race. If you register by Friday, registration costs $45. If you register on race day, registration costs $55.
This event regularly draws hundreds of visitors to our picturesque corner of the state. Plenty of lodging accommodations are available in Ogden, but the roads leading from the city to Ogden Valley can get quite congested on the morning of race day. To avoid this, we recommend staying here in Ogden Valley; you'll find it much more convenient and enjoyable than staying in Ogden. At Mountain Real Estate Companies, we are happy to provide lodging information for accommodations in Ogden Valley, Huntsville, and Eden. We recommend a stay at Lakeside Resort Properties, which offers some of the area's finest lodging accommodations.
What's more, staying in Ogden Valley allows you to experience more local attractions and hotspots that are available in this area. For example, after running the race on Saturday, re-fuel at one of Ogden Valley's fine restaurants, such as Huntsville BBQ Company,    Carlos and Harley's, or The Oaks in Ogden Canyon. Pineview Reservoir has recently de-frosted, so if you're feeling adventurous and bold, hit the lake for some early season waterskiing or wakeboarding. In addition, the fishing is great this time of year, and the beautiful trails surrounding Ogden Valley are all open. So, go ahead and stay an extra day or two while you're here for the Striders WRC 30K. You're sure to find no shortage of things to do in Ogden Valley.
For more information about the Striders WRC 30K and the WRC itself, click here. To see more upcoming races - and other community events - in Ogden Valley, click here. Or, feel free to contact us any time by phone at 801-745-8400.
See you on the course!
Trent Olsen contributed to this article.
Company Profile
Mountain Luxury Real Estate is a division of Mountain Real Estate Companies that features some of real estate's most amazing properties. Mountain Real Estate Companies consists of two additional divisions, Mountain REO and Mountain Living. Please visit our website to learn more about us. For our most recent updates, follow us on Facebook, Twitter, and Pinterest.
Sorry, nothing matches that search.