Wake Up Wakeboard Competition
---
May 9, 2022
Care to witness some stellar wakeboarding?  Come out to Pineview Reservoir on Saturday, July 20th for the Monster Wake Up wakeboard competition!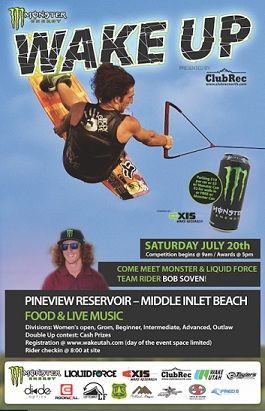 Monster Wake Up was created in 2009 in a collaborative effort by Monster Energy Drink and Club Rec, a local company based in Eden.  The event has become increasingly popular since its inception and now draws thousands of visitors from all around to witness the competition.
Pineview Reservoir in Ogden Valley is an extremely popular destination for local wakeboard enthusiasts because of the water's generally pristine riding conditions.  In recent years, Pineview has gained popularity on a grander scale, and the annual Monster Wake Up wakeboard competition is evidence of that.
What's great about Monster Wake Up is that wakeboarders of all ages and skill levels are free to compete.  In fact, the son of one of our agents, Torrie Frankenberry, competed in Monster Wake Up in 2012.  He was seven years old at the time; it was his first wakeboard competition.  In addition, the event usually hosts a big-name professional wakeboarder to offer words of advice and encouragement to young riders. 
If you wish to compete in Monster Wake Up, visit www.wakeutah.com and complete the registration form given there.  This website also provides competitors with additional information, such as rules, event categories, arrival times, and much more.
If you simply wish watch the action, Monster Wake Up is entirely free to spectators.  You may watch the event from Middle Inlet Beach, or if you own a boat, you may pull up just outside the competition area and watch from the water.  If you wish to rent a watercraft, such as a paddleboard, kayak, or motorized boat, to view the action up close, Club Rec can take care of your needs.  This year's Monster Wake Up will take place on July 20th.  The first runs will start at approximately 9:00 am.
While you're here in Ogden Valley for Monster Wake Up, be sure to experience all that Ogden Valley has to offer, such as the many fine restaurants in the area.  Stop by The Oaks in Ogden Canyon on your way to the competition for a delicious, hot breakfast.  Or if you're hungry after the competition, grab some dinner from Huntsville BBQ Company or the Shooting Star in Huntsville or from Alpine Pizza or Mad Moose Café in Eden. 
We'll see you on the water!
To see more upcoming events in Ogden Valley, click here. 
Trent Olsen contributed to this article
Company Profile
Mountain Luxury Real Estate is a division of Mountain Real Estate Companies that features some of real estate's most amazing properties.  Mountain Real Estate Companies consists of two additional divisions, Mountain REO and Mountain Living.  Please visit our website to learn more about us.  For our most recent updates, follow us on Facebook, Twitter, and Pinterest.
Sorry, nothing matches that search.