Wildflower Pedalfest
---
May 7, 2022
Calling all our lady friends!  Do you enjoy cycling?  If you do, you may have participated in the Rockwell Relay Series Ladies Pamperfest Challenge earlier this July, which we promoted on our blog earlier this summer.  If you did participate in the Ladies Pamperfest Challenge and enjoyed it, or if you were unable but wish to participate in something similar, we've got just the event for you: the Wildflower Pedalfest on Saturday, August 17th.  TODAY IS THE LAST DAY TO REGISTER FOR THIS EVENT!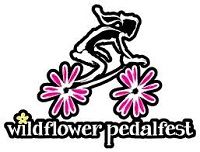 Like the Ladies Pamperfest Challenge, the Wildflower Pedalfest, is a women-only cycling event.  The Wildflower Pedalfest is a creation of Wildflower Outdoor, a local company that specializes in outdoor gear for women.
Based at the Kent Smith Park in Mountain Green, Utah, the Wildflower Pedalfest offers four courses of varying length and difficulty to suite riders of all age and skill level.  All courses take place in the beautiful Morgan Valley.  The shortest course, known as Sunflower, is just less than 20 miles.  Sunflower is ideal for novice riders or those who are just looking for a leisurely ride through beautiful country.  The net course, Sego Lilly, is 35 miles.  This course is also great for beginners who are looking for a little more of a challenge than Sunflower.  Blazing Star is the next course; this course is 50 miles, includes 1,300-feet climb, and is primarily designated for intermediate to advanced riders.  The longest course is Mountain Bluebell at 75 miles.  With two big climbs, this course is designated for advanced riders.  All four of these courses begin and end at Kent Smith Park.
After completing your course in the Wildflower Pedalfest, gather your friends and fellow riders and celebrate with catered lunch, a raffle, live music, and more.  In addition, visit the Women's Cycling Expo, which will offer cycling classes, demo exhibits, shopping booths, and much more.
The festivities will begin at 7:00 am on the morning of the 17th with the Mountain Bluebell race.  Blazing Star will commence at 8:00, followed by Sego Lilly at 9:00 and Sunflower at 10:00.  Post-race festivities, including the lunch and the Women's Cycling Expo, will begin at 12:00 pm.  The raffle will be held at 2:00, and all festivities will conclude at 4:00. 
If you wish to participate in the Wildflower Pedalfest with your girlfriends, sisters, daughter, mother, or whomever, registration is open until midnight tonight.  Registration costs $70 for the 20-, 35-, and 50-mile courses and $75 for the 75-mile course.  To learn how to register, click here.
If you're looking for lodging accommodations near Mountain Green for the Wildflower Pedalfest, we recommend checking out Lakeside Resort.  Located on the other side of Trapper's Loop in Huntsville, Lakeside Resort is just fifteen minutes from Kent Smith Park.  To learn more about Lakeside Resort, click here.
Keep an eye on our blog for information regarding more events coming up in Ogden and Ogden Valley.
Trent Olsen contributed to this article. 
Company Profile
Mountain Luxury Real Estate is a division of Mountain Real Estate Companies that features some of real estate's most amazing properties.  Mountain Real Estate Companies consists of two additional divisions, Mountain REO and Mountain Living.  Please visit our website to learn more about us.  For our most recent updates, follow us on Facebook, Twitter, and Pinterest.
Sorry, nothing matches that search.