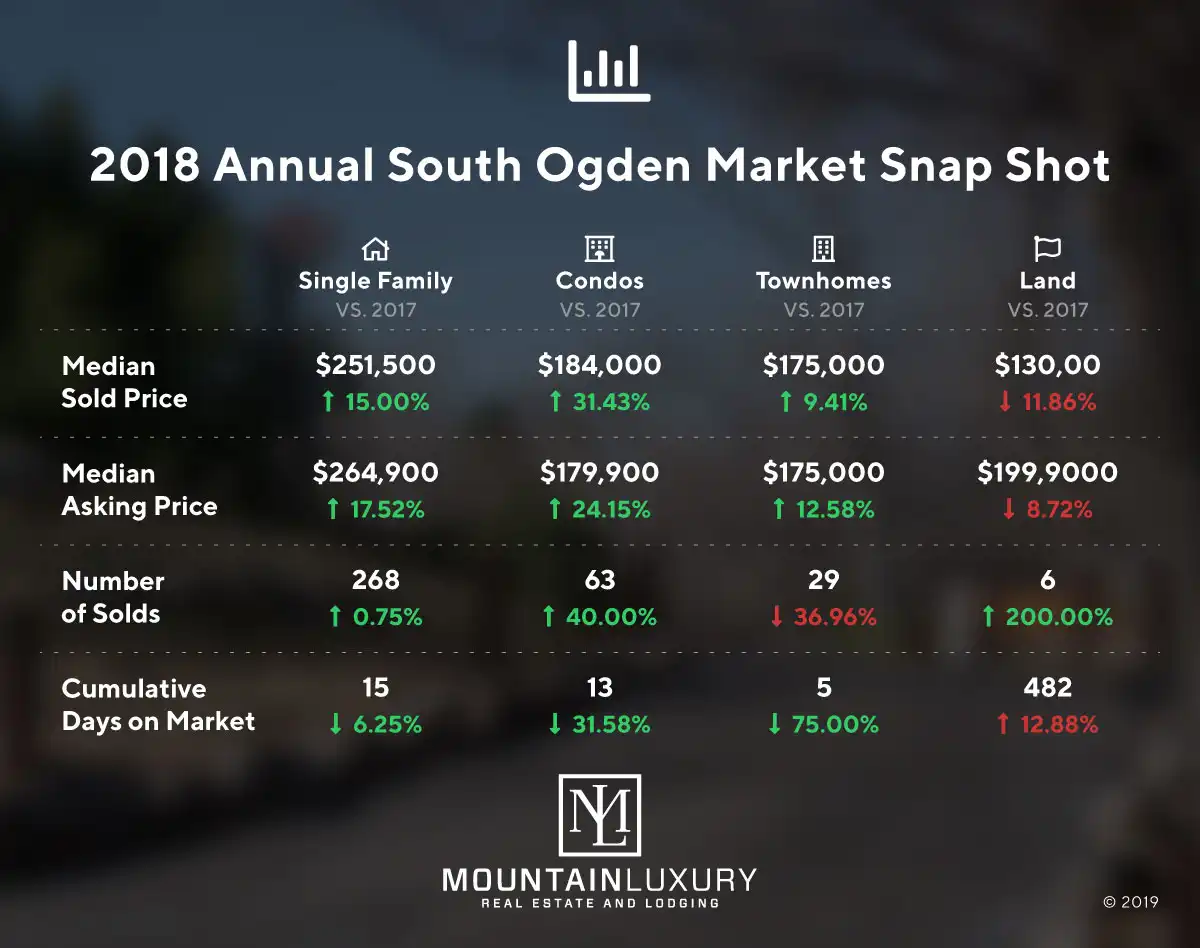 2018 South Ogden Market Report
---
May 10, 2022

How does your home stand in this market? Find out.
Single Family Homes
In 2018 South Ogden showed signs of growth and an increase in property values. Last year (2018) the market finished with a median home value of $251,000, which was a 15% increase from 2017. The number of homes sales remained somewhat flat, growing just under 1%. New listings grew slightly from 266 homes sold in 2017 to 268 in 2018.
Townhomes
The townhome market has also remained strong in South Ogden with a 9.41% increase in values in 2018, with the median price of a sold townhome at $175,000. The number of townhome sales dropped significantly in 2018. 46 units sold in 2017 and dropped to 29 units in 2018. This was a 36.96% drop in the number of available townhomes for sale. Another interesting statistic on these is the average number of days on the market dropped to 5, meaning they sell quickly.
Condos
The most notable data from South Ogden is in the condominium market where home values skyrocketed up 31% over 2017 with an average price of $184,000. There were 63 condos sold in 2018 and they only lasted on the marketplace for 13 days on average.
Residential Lots
Available residential land showed a slight drop in closed transaction by 11.86%. The median sold price for a piece of land was $130,000, even as the supply grew 200% to six available lots in 2018.
Live in this remarkable place by checking out these South Ogden Homes for Sale. These incredible listings include Ogden Homes for Sale, North Ogden Homes for Sale and Mountain Green Homes for Sale. South Ogden is just over the mountain from Snowbasin or Powder Mountain Ski Resorts where you can experience the World's Greatest Snow after a short drive through the canyon.
Other market reports available include Farr West, Ogden, and Ogden Valley. Now is the time to list!