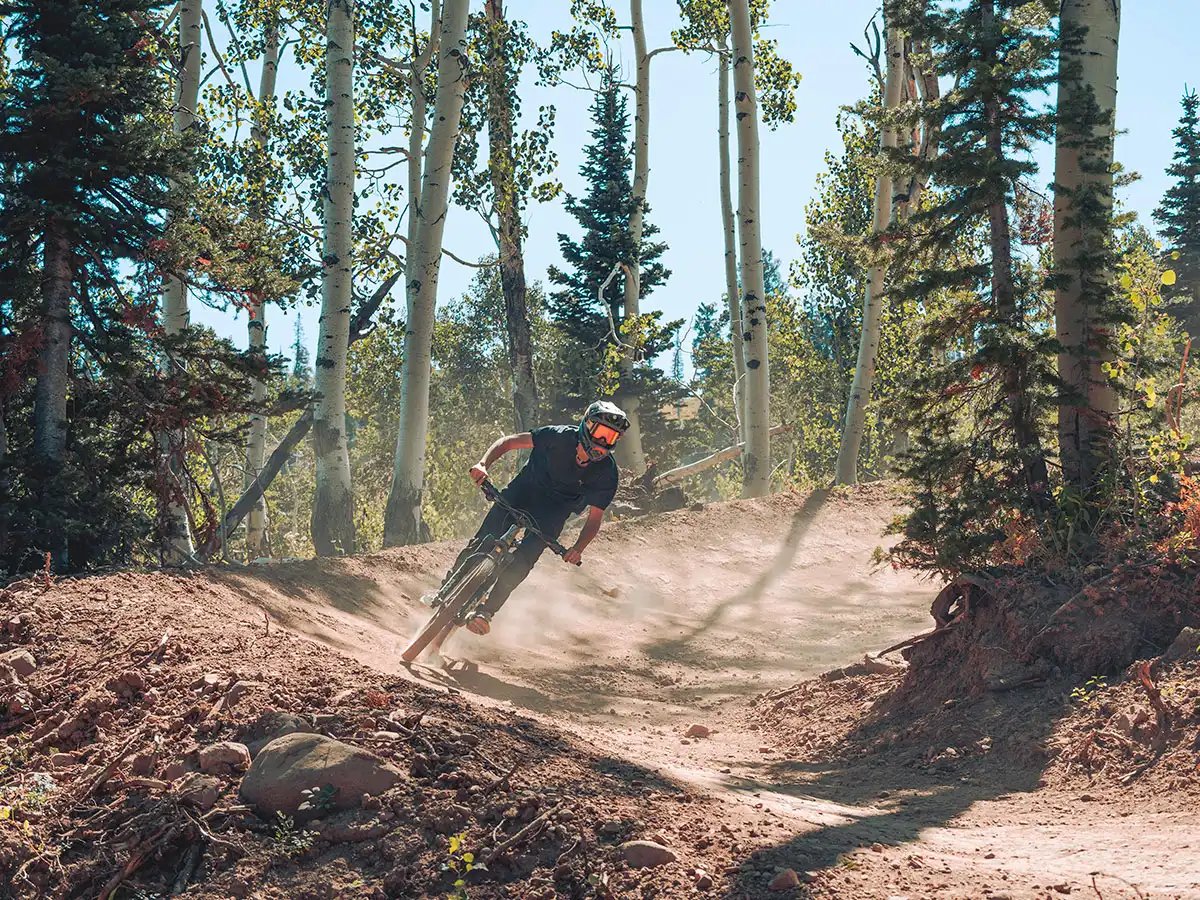 Top 10 Mountain Biking Trails In Ogden Valley
---
Emily Primbs | November 16, 2023
Photo Mountain Biker at Powder Mountain by Jordan Williams
The Eden, Huntsville and Liberty areas in Utah's Ogden Valley are known for their scenic mountain biking trails. Offering a range of single track suitable for all skill levels, Mountain Luxury shares the top 10 trails for mountain biking in Ogden Valley.
Easy Breezy Rides For The Casual Rider Or Beginner
These beginner mountain biking trails are relatively flat and have a smooth, well-maintained surface like hard-packed dirt. They have minimal obstacles or technical features.
North Arm Trail
Situated on the northern side of Pineview, riders enjoy scenic views of the water and surrounding mountains. This trail gets you close to the animals and plants of a wetland community.
Depending on the season you might see deer, waterfowl, songbirds, and trout as you weave through trees, open areas, and along the shore of Pineview. Mostly smooth sections combined with a few rocky spots.
Approximately 3.5 miles one way, or a 7 mile out-and-back ride. The trail can be connected with other trail systems for a longer ride, such as the Pineview West Trail.
Woody's World Trail
This scenic trail is generally considered easy, but features a 545 ft. climb and descent. It's 2.8 mile out-and-back, but once you're ready, it could be combined with Brim and/or Paper Airplane for a longer ride.
Pipeline Trail
1.6 mile out-and-back trail at North Fork Park. Nice wider path lined with trees and beautiful views of the mountains and surrounding valley.
It's an easy connector trail that puts you on Mules Ear, Mules Shoe or Trail 365 without riding on the road.
Intermediate Rides That Take You To The Next Level
Get ready for more varied terrain with these intermediate trails. With moderate inclines and descents, you'll get a taste for elevation gains and navigate a mix of surfaces and small obstacles.
Paper Airplane Trail
This 1.2 mile out-and-back single track is a popular trail with abundant wildflowers, aspen forests and pine tree glades. Expect a few hills, worth it for the fun descent.
Shortly down the trail you'll find a giant treehouse, the perfect spot for a picnic. Continue down the trail further to see the amazing Paper Airplane sculpture that the young at heart will love to explore.
Brim Trail
During the summer months, Powder Mountain transforms into a mountain biking paradise and the Brim Trail is a favorite, known for its mix of flowy sections, small climbs and descents.
It features beautiful constructed berms and switchbacks. The trail meanders through aspen groves, wildflower meadows, and pine forests.
The trail is approximately 6 miles long. It's at a higher altitude, which can affect some riders. Take it slow, bring plenty of fluids and a snack.
Wheeler Canyon
A 2 mile single track featuring mild, steady climbs on dirt, rock, and root ridden tread through the scenic Wheeler slot canyon.
The trail pops out at the Art Nord trailhead where you can cross old Snowbasin road and choose the East Fork Trail or Wheeler Creek Trail from there.
Spork in North Fork Park
A favorite trail among locals, Spork is a mountain bike only trail in North Fork Park. It is directional based on odd or even days. It branches off Trail 365 and starts as a two-way trail but becomes a single track loop after 0.3 miles.
Spork has rock drops, rock bridges and other fun features that offer a mix of terrain including climbs, descents, and technical sections through aspen, pine, and oak forests.
Challenging Rides for Advanced Mountain Bikers
Riders should be prepared for more demanding trail conditions including steep and technical descents, significant elevation changes, rocky sections and uneven surfaces.
Lewis Peak Trail
This trail features steady climbs that can be quite strenuous. Primarily a single track that traverses through various terrains, from wooded sections to more exposed ridge lines. You'll find sweeping views of Ogden Valley, Pineview, and surrounded mountain ranges with epic views from the peak.
From the North Ogden Divide trailhead, the Lewis Peak Trail is about 6 miles one way, or 12 miles round trip.
Sardine Canyon Overlook Loop
As you progress along Sardine, you'll traverse forests, meadows, and ridge lines. This trail has some challenging climbs and technical sections with some rocky spots.
The entire loop is about 10 miles long. It gains significant elevation, culminating at the peak. The subsequent downhill section is a treat for many riders.
Skyline Trail
Known for its stunning views and challenging terrain, bikers love this popular trail. Offering rocky sections, switchbacks, and fast descents, riders can expect to navigate through meadows, alpine, and exposed ridge lines.
The trail spans 30 miles from end to end, with various entry and exit points along the way for those looking for shorter rides.
Because Skyline Trail reaches elevations of over 8,000 ft, be aware of symptoms of altitude sickness.
Mountain Biking Essentials
Be prepared with the right gear and equipment to ensure a safe and enjoyable ride.
Here's our list of essential items to pack for your next biking adventure in Ogden Valley:
Helmet- Provides crucial head protection in case of a fall or collision — don't skip it!
Gloves- Protect your hands in case of a crash and to provide a better grip on handles.
Eye Protection- sunglasses or clear glasses can shield your eyes from dust, debris, and branches.
Moisture-wicking and breathable clothing- dress for the weather conditions and consider layers that can be added or removed as needed.
Footwear- Study, close-toed shoes or biking cleats with good traction are ideal.
Body Armor- Depending on the terrain, knee and elbow pads can add extra protection.
Tools & Repair Kit- Think duct tape and zip ties for temporary fixes, spare quick links for chain repairs, a chain tool, spare tubes, levers, and a portable pump. A compact multi-tool with wrenches and screwdrivers is never a bad idea.
First Aid Kit- supplies for bandaging, antiseptic wipes, and any personal allergy meds you might need.
Water- Stay hydrated throughout your ride!
Nutrition- Energy bars, gels, or other snacks can help maintain energy levels, especially during longer rides.
Phone- for navigation and in case of emergency, make sure it's charged and has important contacts and signal coverage.
Other considerations — don't forget sunscreen, bug spray, a head lamp if riding during low-light conditions, as well as a whistle and a form of identification. Familiarize yourself with the trail system and let someone know your intended route and estimated return time, if riding alone. Better yet, grab a few buddies and explore these beautiful trails together.
Conclusion
If you're seeking thrilling adventure amidst breathtaking natural beauty, these trails offer diverse terrain whether you're an experienced mountain biker looking for a challenge or just in search of a leisurely ride.
While Ogden Valley is well known as a top destination for world-class skiing and snowboarding, a visit during the other seasons is sure to be a treat for mountain bikers. Book your stay in the valley and you're just minutes away from these trails or explore Eden and Huntsville homes for sale and become a local.