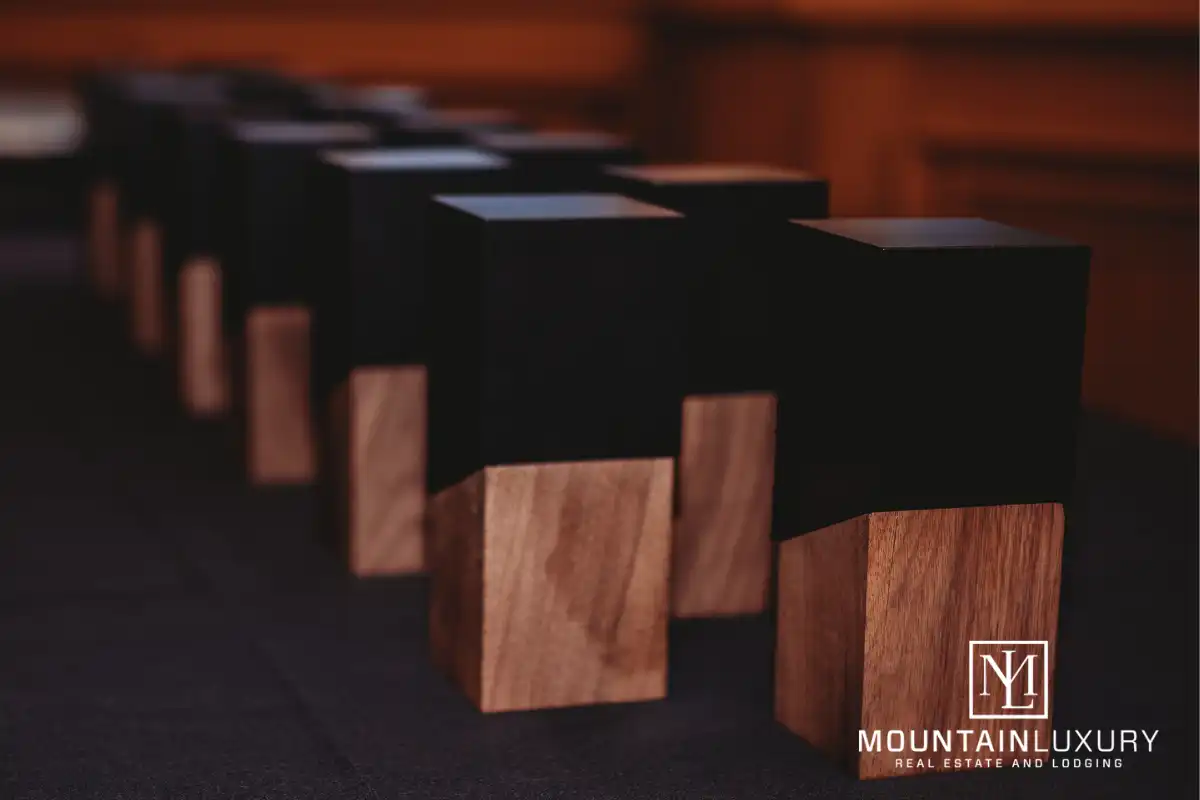 The Annual Mountain Luxury Awards of Excellence - 2020
---
February 6, 2023
Here at Mountain Luxury, we are lucky to have some of the best in the business as part of our team. This year we took the time to honor the men and women who pushed the limits and brought their A-game to work every day.
In spite of the hardships, 2020 was full of accomplishments for our independent brokerage. It was the best fiscal year we've ever had, new agents joined our team, and we've refined our services to provide a better real estate experience. With that in mind, we felt it vital to thank our top achievers this year:
L TO R | Brandi Hammon, Andy Primbs, Jennifer Stickler, Ann Montgomery

Our Employee of the Year is Agent and Transaction Coordinator Heather Bowden! To say she worked her butt off this year would be an understatement. Covid-19 slowed a lot of things down, but when the real estate market really exploded--and stayed hot for an entire year--Heather stepped up and kept everything running smoothly, working countless hours to keep our transactions in place, organized, and on-time. 

Our Rising Star award went to Agent Michelle White, who despite being a new addition to the team still managed to sell over $3 million in real estate transactions. Go Michelle!

Our On Belay award goes to our marketing team's Savannah Turner. Last year she took on our social media accounts and coordinated our highly successful Giving Tuesday charity event.
Circle of Excellence
Hawaii Trip Winners – Over $10 Million in Sales
L TO R | Paden Anderson, Heidi Webb, Brandi Hammon
Our top performing agents who broke the 10-million-dollar mark won themselves a trip to Hawaii! It's well earned for our top 3 agents of 2020:

Our fearless leader, visionary, founder, and principal badass of Mountain Luxury, Brandi Hammon sold a whopping 44.1M across 55 transactions. Brandi's superb market knowledge, creativity, and heart have made her a client favorite, allowing for her to summit this peak.

Paden Anderson, between remodeling homes, managing rental properties, and traveling with his family sold 20.8M across 38 transactions. Well done! Paden's diehard work ethic and project management skills are nothing short of admirable.

Heidi Webb, our local expert and powder hound, sold $13M in 2020. Nice! The marketing team calls her Heidi Hawaii now.
Moab Trip Winners – Over $5 Million in Sales
L TO R | Ann Montgomery, Sherry Crandall, Jennifer Stickler, Paul Taylor
We had a total of 10 agents break the 5-million-dollar mark in sales in 2020. These hardworking agents knocked it out of the park! We're rewarding them with a trip to Moab later this spring:
$8.4M PRODUCER
Anita Oliveri
Anita@mountainluxury.com
801.388.1931
Congratulations to all our agents and team members, and let's make 2021 even better than last year!
Sorry, nothing matches that search.