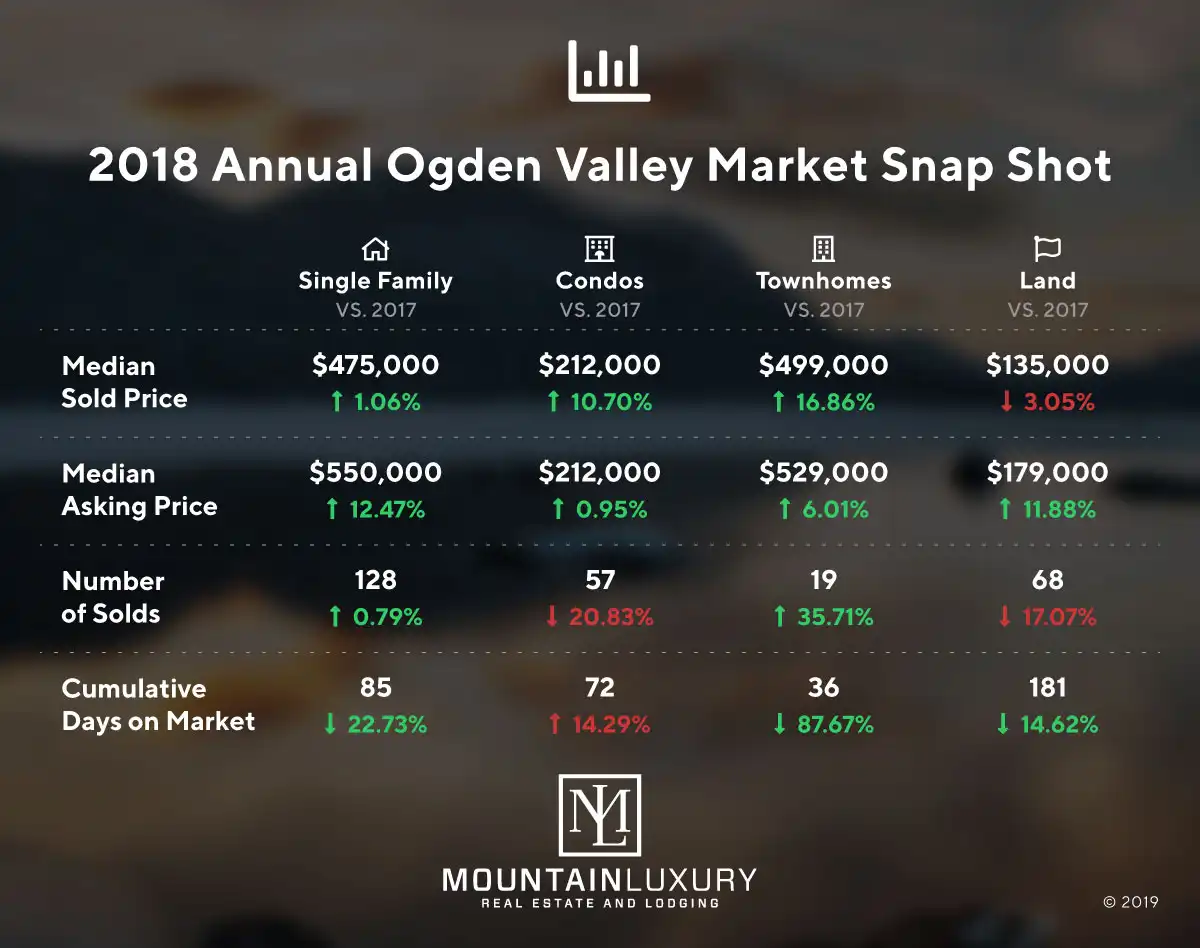 2018 Ogden Valley Market Report
---
December 14, 2022
How does your home stand in this market? Find out.
Single Family Homes
In 2018 Ogden Valley property values remained flat. Last year (2018) the market concluded with a median home value of $475,000, a minimal increase of 1% from 2017. This is a leveling off from 9-11% consistent annual growth since 2014. The total number of homes sold remained constant with 128 homes sold versus 127 in the prior year.
Condo sales tell a different story. In review of the previous 3 years the median sales price has been erratic. In 2016 values dropped 34% and then increased 34% in 2017 with a 10% increase in 2018 and median value of $212,000. Interestingly, this value is still below 2014's $222,539. The total number of units sold is down from 72 (2017) to 57 but are still well ahead of 2012-2016 sales volume. Condos are still a good value and represent a great opportunity to enter into the Ogden Valley real estate market.
Townhomes
The townhome market is the most robust segment in Ogden Valley and pulled upward by new construction. Median sales value increased from $427,000 (2017) to $499,000. This is the highest value seen for Ogden Valley townhomes to date. There were 19 townhomes sold versus 14 in 2017. Most of this activity was in Huntsville with Lakeside Village (6), Escapes at Edgewater (6); Eden had the Cascades (3), Ridges (2) and Powder Mountain's new Copper Crest (1). Not all of the newly constructed units are reported on the MLS so it is likely there were more sales.
The demand for vacation rentals and simplified living is part of the drive here. 
Residential Lots
Available lots in Ogden Valley are continuously in abundance. Land values peaked in 2015 with a median sales price of $145,000. Over the last few years values bounced around the $135,000 range including 2018. This is down 3% from 2017. While this is relatively steady since 2015 the volume of lots sold dropped from the peak volume of 82 (2017) to 68 in 2018 down 17%. Volume was steady from 2013-2016 ranging between 73-75 sales per year.
With a 2 ½ year supply of land on the MLS and another year supply or more available but not listed, land is in great supply in Ogden Valley. There are segments with higher demand including ranch lots and larger (1+ acres) flat parcels. This has been the case for over 10 years and unique parcels will continue to have extraordinary value including lakefront properties.
Even with the stall in lot values new listing prices have increased 11% and the likelihood a new listing will sell is 39%.
Condos
Ogden Valley condominium median values peaked in 2014 at $222,539 and with some erratic movement in the following years settled in 2018 at $212,000. The most notable change in condo sales is the number of units sold jumping from the mid-30s up to 72 in 2017 and down to 57 in 2018.  
There is virtually no new construction in condo market thus this represents resale units throughout the valley.
Wrap Up
The overall residential market, although not increasing, is performing well. Properties listed are 75% likely to sell (up 7%) and inventory available is down 10%. The median asking price is up 10% to $499,000.
Live in this remarkable place with Ogden Valley Homes for Sale. These incredible listings include Huntsville, Utah homes for sale, Eden real estate, and land for sale in Liberty. Don't miss out on owning a home near Snowbasin or Powder Mountain Ski Resorts, experience the World's Greatest Snow right outside your door.