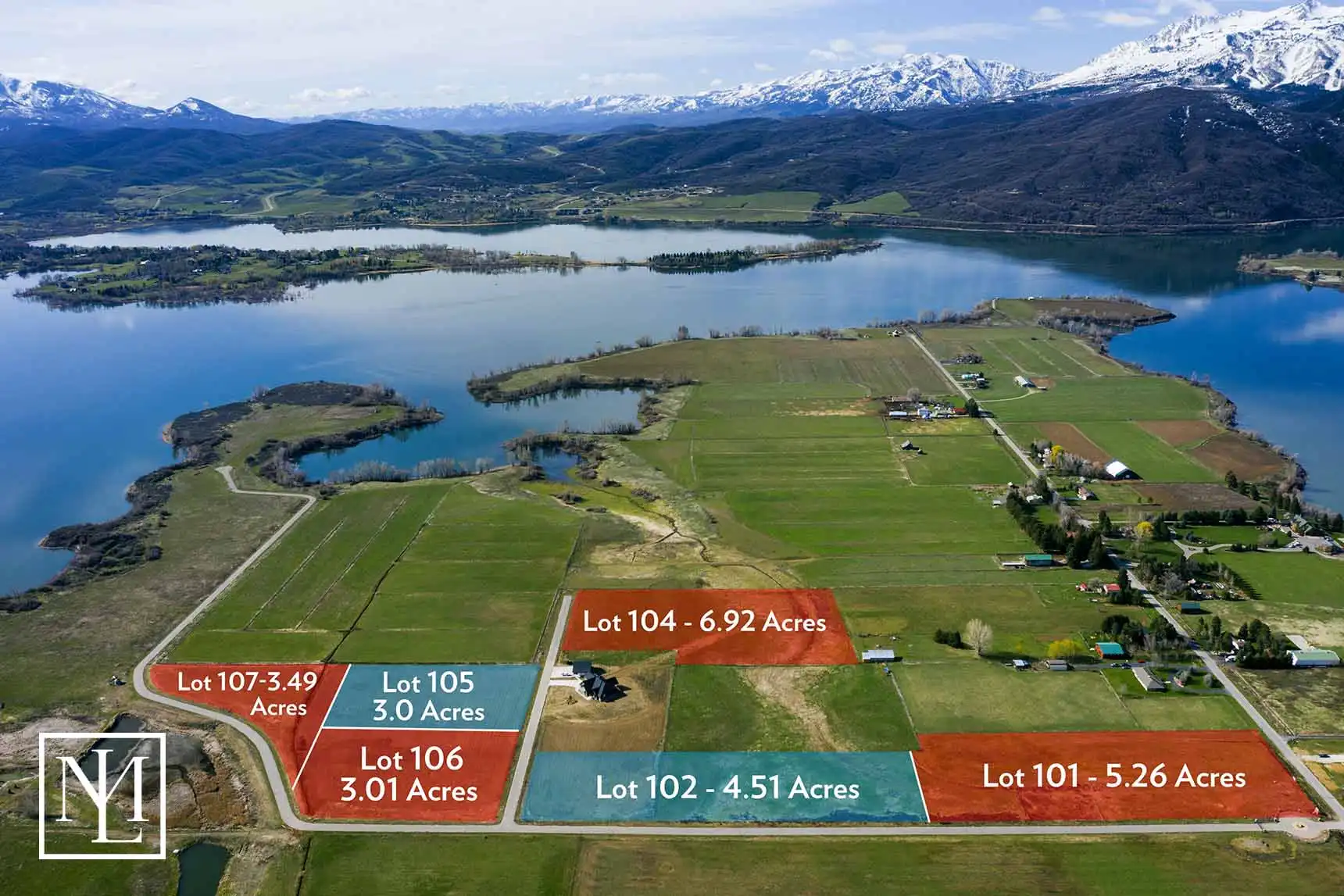 Eden Lake Meadows
---
December 14, 2022
Six Pristine Lots at Eden Lake Meadows, Eden UT
Lot 101 | 5963 E 1600 N, Eden UT 84310 |  $499,000 | 5.26 Acres | MLS #1670999
Lot 102 | 6087 E 1600 N, Eden UT 84310 | $449,000 | 4.51 Acres | MLS #1671056
Lot 104 | 1461 N 6150 E, Eden UT 84310 | $599,000 | 6.92 Acres | MLS #1671086
* SOLD * Lot 105 | 1528 N 6150 E, Eden UT 84310 | 3.0 Acres | MLS #1671091
* SOLD * Lot 106 | 1570 N 6150 E, Eden UT 84310 | 3.01 Acres | MLS #1671230
Lot 107 | 6261 E 1600 N, Eden UT 84310 | $459,000 | 3.49 Acres | MLS #1671093
Pristine mountain views and a serene gated community on the waterfront, Eden Lake Meadows represents some of the finest land in Utah. Richard Nixon may very well have been talking about this property when he said, "Clean air, clean water, open spaces - these should once again be the birthright of every American."
Six individual parcels ranging in size from 3.0 to 6.92 acres embody the very dream of rural mountain living. Easy access to the waterfront from inside the neighborhood, or at the end of Stringtown Road, provides endless summertime recreational opportunities. Three world-class ski resorts anchor the valley on all sides and enliven the area with a flurry of activity all year long. From mountain biking, hiking, rock climbing and fishing in the spring, summer, and fall, to endless days skiing in the winter. The area is one of the West's best kept secrets. Each lot has its own unique view of the regal Mount Ogden to the south and Flat Top Mountain to the north, and each include ample space to optimize those views.
Water is provided by Eden Water with irrigation shares included. Gas and power are also available and each lot would require its own septic system and PERC testing has been completed.
The property is located in the Weber School District and is served by Valley Elementary, Snowcrest Jr. High and Weber High School. There are numerous charter and private schools in the area, including DaVinci Academy and St. Joseph High School.
This beautiful Eden, Utah land is for sale with Brandi Hammon.  Please email, text or call for more information on this or any other Eden properties that may work, 801-745-8400.
*Lot boundary lines drawn over photos are for illustration only. All property information to be verified by buyer.